Tower Tumble slot review (Relax Gaming)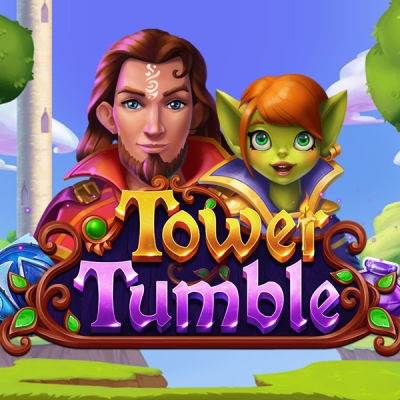 Tower Tumble is a cluster pays slot, played on a matrix of 6 x 6 symbols. You win the free spins bonus by unlocking all the symbols on the screen. Tower Tumble may not be a Megaways slot, but that doesn't mean that a slot can't be entertaining. The theme of Tower Tumble revolves around a fairy-tale in the forest. A young prince is looking for his princess, who is locked up, high up in a tower. It reminds us a bit of Hunchback, the popular videogame from the eighties.
Play Now
Game Provider:

Release Date:
November 2019
Relax Gaming is on a roll and has released a string of some pretty decent slots over the past months.
We were more than curious when Relax Gaming released tower Tumble. After the outstanding slots Let's Get Ready to Rumble and Money Train, expectations were high.
Besides, Temple Tumble Megaways, the first Tumble slot of Relax Gaming, happens to be one of our favourite Megaways slots.
In his romantic quest, the prince gets help from lovely fairies and magical treasure chests.
The treasure chests are particularly useful, as they possess extra features, helping to get more winning combinations.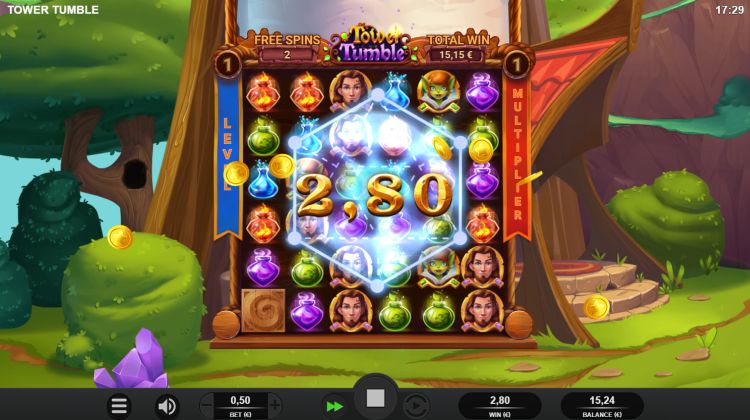 Gameplay and features of the Tower Tumble slot
Each spin starts from a grid of 12 (2 + 4 + 4 + 2) symbols. Grey tiles represent the other 24 cells of the 6 x 6 grid. Underneath the tiles, there are hidden symbols.
You can make winning combinations in Tower Tumble by spinning horizontal or vertical rows of 3 or more identical symbols. Once you get a winning combination, it disappears, and new symbols drop (avalanche mechanism).
After each winning combination, all tiles in touch with the winning combination are opened (unlocked). As new symbols appear (under the tiles, a symbol is hidden), you can make new winning combinations and get a chain reaction. This way, the field expands until the entire matrix of 6 x 6 cells is unlocked, providing access to the free spins.
If you don't get a winning combination, the playing field resets back to its original size (2 + 4 + 4 + 2). Then, you have to start all over again.
Netent's popular slot, Reel Rush 2, has the same game mechanism.
Bets start from $€ 0.10 per spin. The maximum bet is $€ 100 per spin.
What are the theoretical RTP, the variance and the maximum win of the Tower Tumble slot?
The theoretical payout percentage is 96.11%, which is fine.
The variance of Tower Tumble is medium to high. It is possible to land a win exceeding 1,000x the bet, but consider yourself more than very lucky if you do. The top prizes will, in most cases, be around 500x the bet.
The maximum win is a massive 5,150 x the total bet, based on a billion simulations.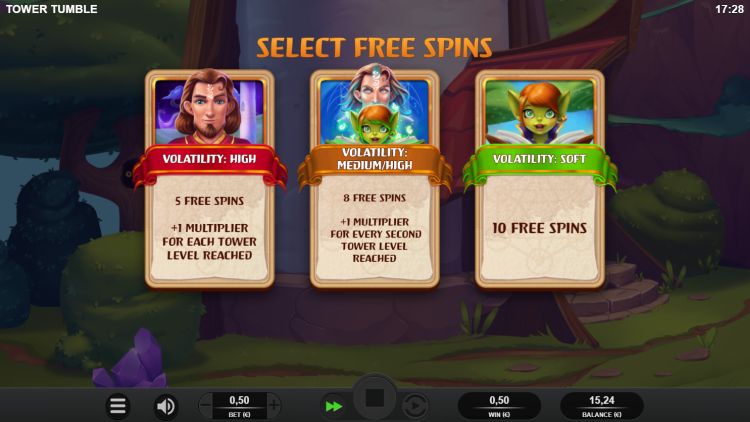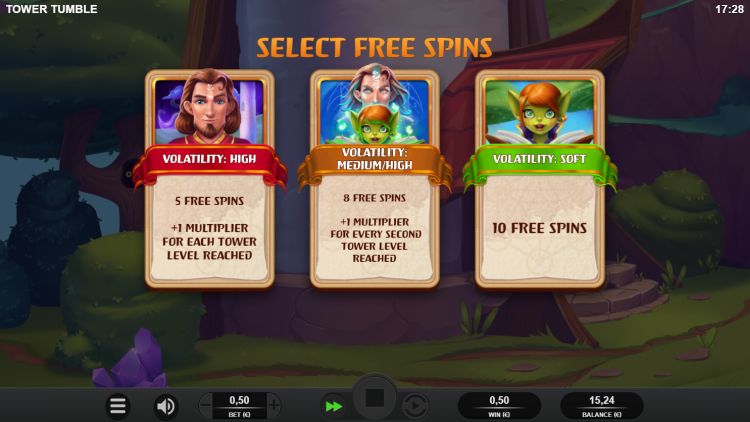 Additional mini-features
There are four types of treasure chests, which can also appear on a grey tile. If one of these tiles touches a winning combination, the treasure chest opens. In that case, you get a powerful extra feature.
The colour of the treasure chest determines which booster you get:
Earth (green): 4 to 6 symbols are removed from the playing field.
Air (purple): you get a diagonal line with wilds in the matrix
Fire (red): a group of symbols turns into the same symbol.
Water (blue): You now get 2 to 5 wilds on the reels.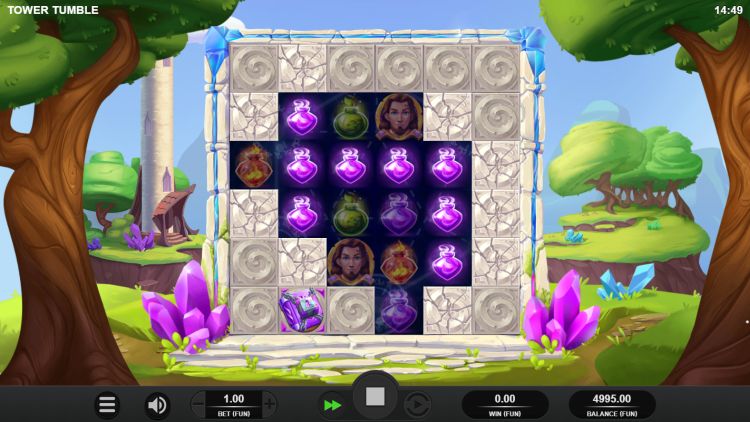 Free spins bonus
Once you've managed to get rid of all the 24 tiles (and effectively playing on the entire playing field of 6×6), you'll win the free spins bonus.
You can choose from 3 free spins bonuses, each with a different risk profile:
Extra Spins – Low risk with 10 free spins and no multipliers
Added Multipliers and Extra Spins – Medium/High risk with 8 free spins and a multiplier that increases by +1 after you have moved up two levels
Added Multipliers – High risk with 5 free spins and a multiplier that increases by +1 every time you move up a level
The playing field is not reset during the free spins after a non-winning spin. This makes it much easier to unlock a playing field and move up to the next level. If you do, you get new free spins again.
In theory, you can unlock an infinite number of levels, although, in practice, the free spins will always end once. We wonder if the prince will ever rescue the princess!
Our verdict on the Tower Tumble slot
Tower Tumble is a very entertaining slot, although it is not as spectacular or impressive as the original, Temple Tumble.
It's relatively easy to win the free spins bonus. The result is that there is not enough RTP room left for the real massive wins.
The genuine thrill-seekers, aiming for the enormous wins of, say, 2,000x the bet or more, will not find it here.
If you are an impatient player, this slot might be a tad too slow for you. The spins and free spins are very time-consuming.
The slow pace will be a big plus for players who put entertainment first.
3.5 out of 5 stars.