TNT Tumble slot review (Relax Gaming)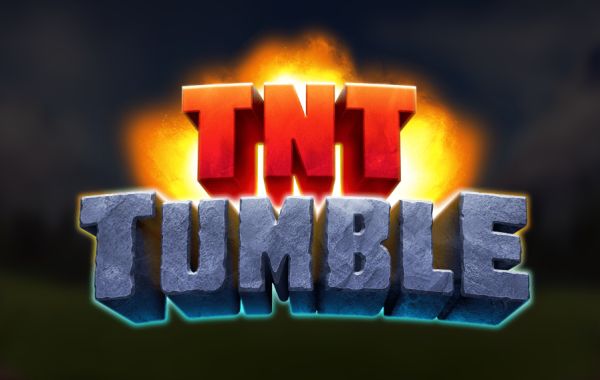 Like in the first part of the series, Temple Tumble Megaways, the idea is to shatter rocks/blocks by making winning combinations. The more rocks you destroy, the higher the profits. The game takes place in an abandoned gold mine, where you have to use dynamite and drills (the wilds) to make your way down.
Play Now
Game Provider:

TNT Tumble is another original Relax Gaming video slot and the second part of the "Tumble" slots series
When you reach the bottom of the playing field by completely shattering the last row of dark rock, you reach the free spins bonus round. Your mining lift cart descends even further, showcasing a beautiful animation.
On your journey downward, you can earn extra spins and, in some cases, extra multipliers.
Apart from the fact that TNT Tumble is a lot of fun, you can also earn big bucks with it: the maximum profit is no less than 12,278 x the total bet. So the game can turn out to be a real gold mine!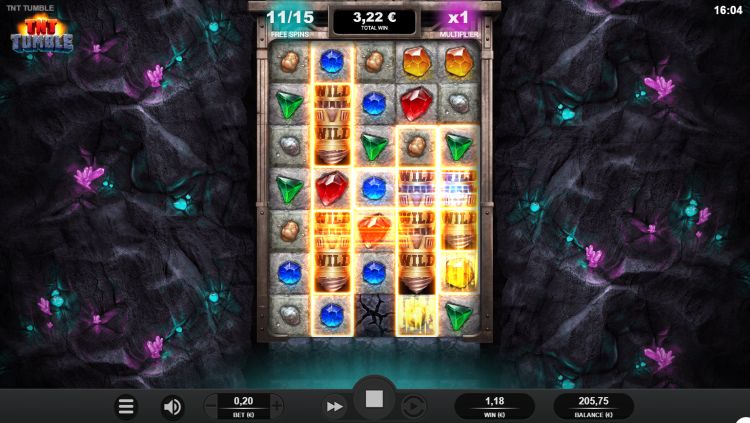 TNT Tumble gameplay and features
The TNT Tumble game is a cluster slot: winning combinations consist of 3 or more of the same symbols on a horizontal or vertical line.
Winning combinations disappear (shatter) and make way for new ones so that chain reactions can occur.
Betting starts at 10 cents per spin and runs up to $€ 100 per spin.
The theoretical payout rate is on par at 96.11%, and the variance is between medium and very high, depending on which bonus feature you choose.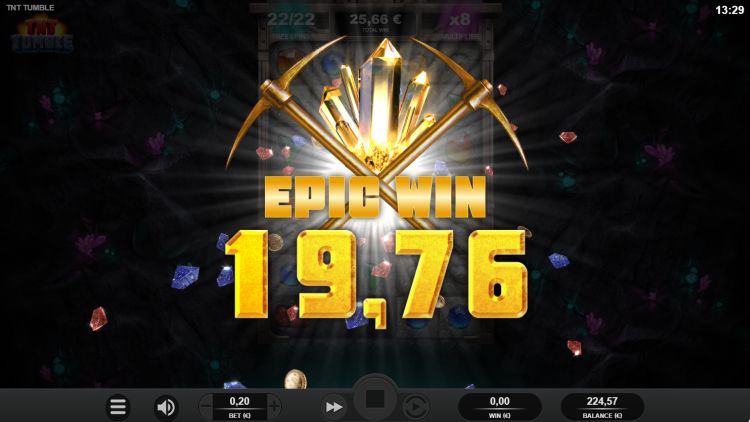 Symbols and payouts
The jackhammer is wild and replaces all other symbols. Also, it remains in place for several spins. If you can hit several wilds, your luck can turn for the better, and rewards can start soaring in a big or an epic way.
The symbols consist of different types of rocks with gemstones and stones with ore, with the gemstone blocks being the premium symbols.
Seven wilds award you 50 x the bet, spin seven red gemstone blocks, and make 15 x the stake.
All other gemstone blocks (orange, green, blue) yield between 6 x and 10 x the bet tops with seven identical ones.
The blocks with two types of ore are worth 4 x to 5 x the bet in the case of a 7-of-a-kind.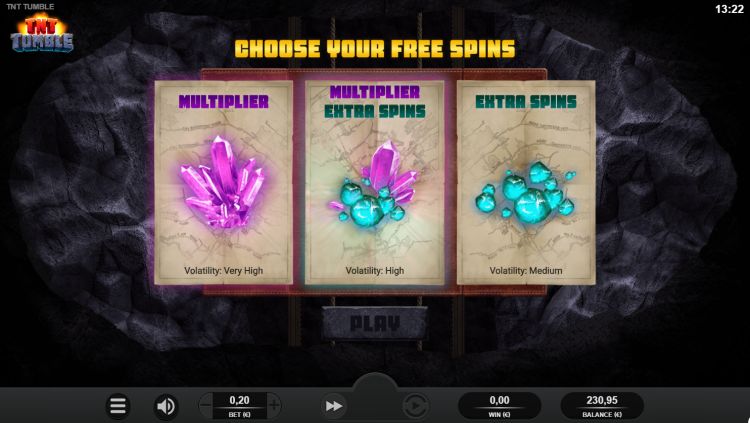 TNT Tumble Relax Gaming bonus
Free Spins Bonus: Choose your variance
There are two ways to get access to the free spins bonus:
By playing away all rocks
By buying the bonus for 70 x the wager
Then it's up to you to decide which free spins bonus to get:
Very high variance: collect extra multipliers (purple crystals)
High variance: receive extra multipliers and extra free spins (purple and blue crystals)
Medium variance: collect additional free spins (blue crystals)
You always start with six free spins.
Additional free spins consist of 1, 2, 3, 5 or 10 free spins, and additional multipliers can consist of +1, +2 or +3.
You start the free spins bonus on level 1, and if you shatter enough rocks, you level up. That sounds a lot more interesting than it is: it awards you some extra free spins each time.
Of course, the further you get, the more cash you rake in.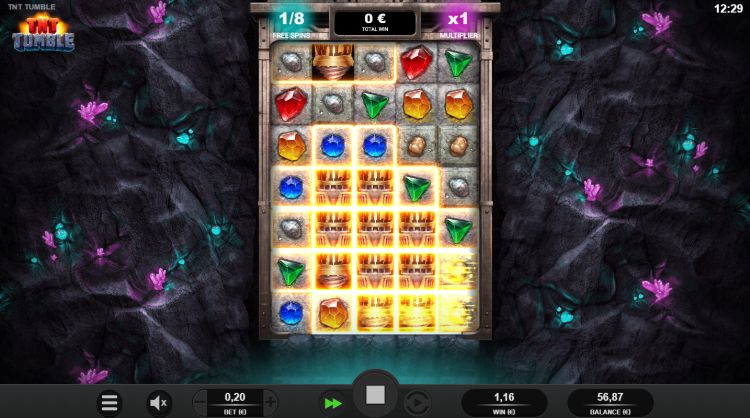 Our verdict on the TNT Tumble slot?
Relax Gaming is becoming a slot provider that is making a name for themselves more and more.
They regularly release very entertaining new slots, with surprising and original game mechanisms and well-developed themes.
TNT Tumble is also an excellent release, with the Buy a Bonus option hitting the bullseye.
Beware – there's a risk involved: before you know it, you'll be a few hours down the road, having bought dozens of bonuses. That's how nice a slot this is!
If you feel the variance of this mining slot is way too high, we suggest trying some spins on the Rabcat's excellent Mining Fever slot.
3.8 out of 5 stars.

🔥New Casino
⚡️Quick Banking
🍒Reward Scheme

❤️Best Mobile Casino
🎁VIP Bonus Options
🍓Live Casino Bonuses
🍒Thousands of Slot Games
✅Professional Customer Service
⚡️Withdrawal lock option