The Invisible Man slot review (Netent)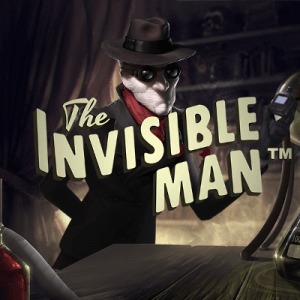 In this film, an obsessed scientist named Griffin manages to make himself invisible and insane. Seems like an ideal concept for a video slot. The mood of this classic movie is captured perfectly by Netent. The graphics are beautiful, and the music and sound effects are foreboding and enhance the atmosphere, just like it should be with an exciting movie.
Play Now
Game Provider:

Release Date:
December 2014
The Netent release The Invisible Man is based on the 1933 horror/sci-fi movie with the same title.
But of course, the biggest question of all remains: is The Invisible Man an old-fashioned, fun Netent slot?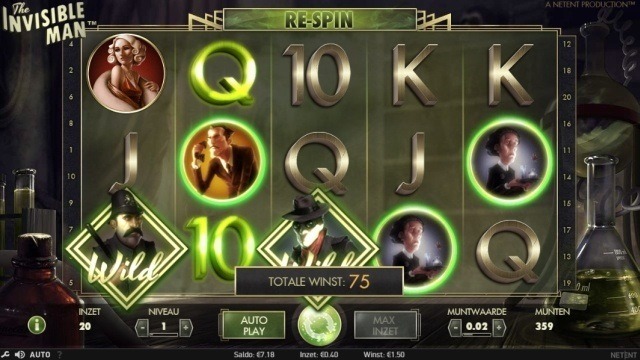 How does The Invisible Man slot work?
The Invisible Man slot's primary game uses a standard playing field with 5 reels x 3 rows of symbols and 20 paylines.
Winning combinations are valid in both directions (similar to Starburst). Nothing new under the sun so far.
But Netent would not be Netent if they didn't dream up something new. There are wild symbols: the policeman and The Invisible Man.
When one of the symbols drops, they move to the right (policeman) or the left (The Invisible Man) across the playing field.
As long as they remain on the screen, you collect extra credits, just like Jack And The Beanstalk, but from both ways.
Should they crash into each other, the party is on, and you win the bonus game!
Bonus features The Invisible Man slot
Once you have reached the bonus game, you receive 10 free spins that will retrigger regularly (+ 4 spins).
And here again, if a Wild symbol appears on the screen, the reels will keep turning until they disappear. So as long as plenty of Wilds keep coming, you can earn dozens of free spins.
And as a bonus: you can also reach an extra bonus game.
The meter is filled up for every Wild symbol that reaches the other side.
And a wholly filled policeman or The Invisible Man meter means extra free super spins:
Police bonus: 3 free spins with 5 random Wilds on every spin
Griffin's Rage Bonus: get additional money prizes and multipliers
The bonus game of The Invisible Man is an enjoyable experience. Many free spins, lots of Wilds and the possibility to win extra bonus games and retriggers. Just the way we like it!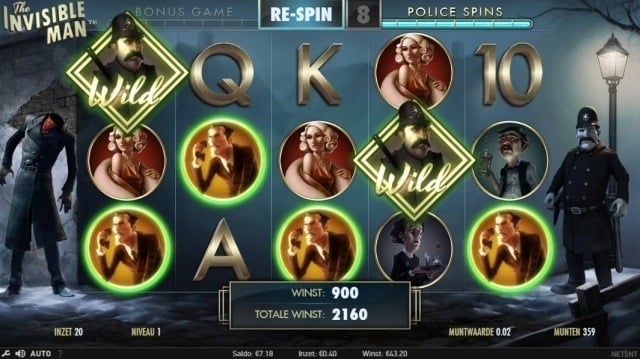 3 good reasons to love The Invisible Man slot:
Brilliant graphics and great sound
Entertaining bonus game: exciting and innovative
A lot of love and hard work went into this title.
Our verdict on The Invisible Man video slot
A very solid four stars for The Invisible Man. It is a beautifully designed slot with a unique bonus game.
The only downside is a base game that is a bit too dull.
But those extremely entertaining bonus rounds make this title worth playing for sure.
4 out of 5 stars.