Street Fighter 2 slot review (Netent)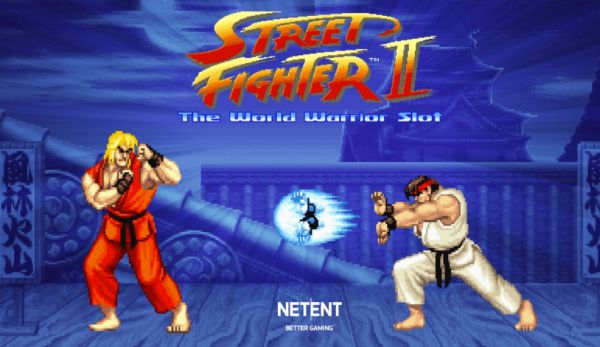 During ICE 2020, it quickly became clear that Netent sees Street Fighter 2 as the biggest release for the year 2020. And Netent miraculously succeeded in transforming Street Fighter 2 into a killer slot.
Play Now
Game Provider:

Table of contents
Best of The Month

100% up to

€500 Bonus

+ 200 Free Spins
Join
Best Bonus
Latest Casino News
Every spring, Netent announces the upcoming major releases at the world's largest iGaming show, ICE, in London
This video slot is (obviously) based on the arcade game with the same name, which Capcom released in 1991. Streetfighter 1 was already a reasonable success, but Streetfighter 2 really put the game on the map.
Street Fighter 2: a two for one
This video slot is a fusion of an online slot and a video game.
Netent had the almost impossible task of adapting the gameplay of Street Fighter 2 to an online slot, where you can win money and which is brimming with bonus features and gamification.
The way Netent pulled it off deserves real respect. We've had our fair share of reservations about Netent, but with Streetfighter 2, they're once again showing what they're capable of creating entertaining slots that are spot on from A to Z.
With Streetfighter 2, you can choose one of the game's eight familiar characters (including Ken, Zangief and Chun Li). With this avatar, you will play the game. Just like in the real game, each character has his or her strengths and weaknesses. So choose carefully.
Now you are set for the fight to the death. If you win from your opponent, you grab a big bonus feature. However, if you lose, you win only a small consolation prize. And of course, you will receive eternal scorn.
Are you ready?
Fight!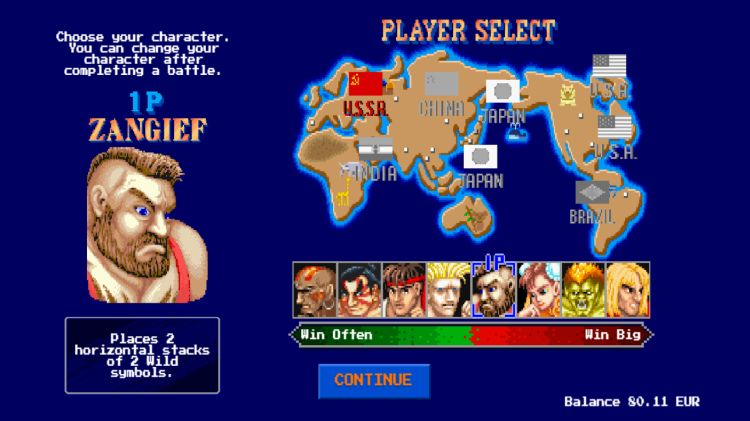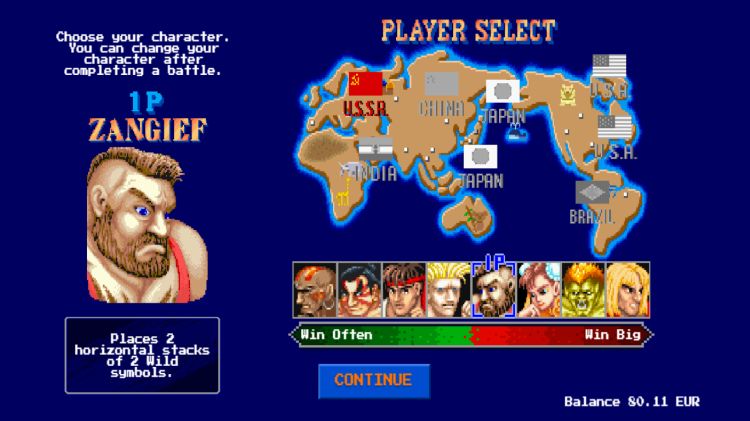 Gameplay and features
The Streetfighter 2 game is a cluster pays slot that is played on a playing field of 5 x 5 symbols.
You win prizes with a cluster of four or more of the same symbols. The bigger the group, the higher the prize.
But above all, the clusters can help you defeat your opponents and vice versa.
Wagering starts at 20 cents per spin and can run up to a maximum of $€ 40 per spin.
Although it is unknown how much you can earn the most with Streetfighter 2, it is clear that the variance is medium to high.
The average theoretical payout rate is at least 96.02% but can even soar up to 100%.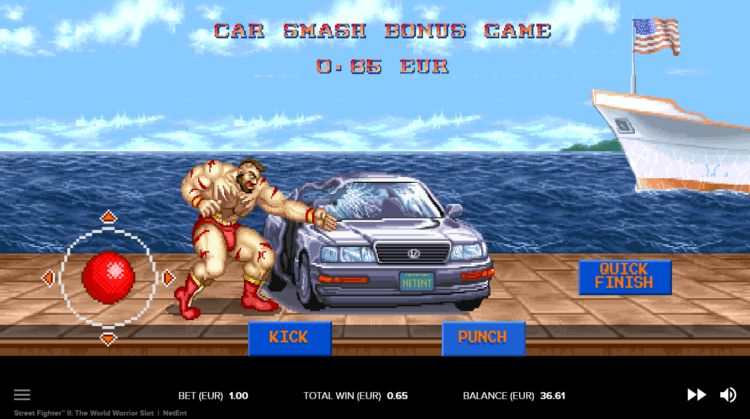 Pick your avatar and fight
Before you start playing, you may choose a character. With this avatar, you enter the game and engage in all the battles.
If you're tired of a character, you can trade him back after a round.
The different characters have not only different qualities but also different payout rates.
If you can form enough winning combinations with the premium symbols, they'll use their special powers.
These special powers amount to different risk profiles. Some award you many small prizes, other high prizes, but with a lower frequency.
The characters are ranked from low to high risk:
Dhalsim – puts 3 or 4 random wilds on the matrix (96.04% RTP).
Honda – places 3 wilds on the same reel (96.05% RTP).
Ryu – puts 3 wild symbols on the same row (96.02% RTP).
Guile – provides 2 vertical stacks with wild symbols (96.04% RTP).
Zangief – now you get 2 horizontal stacks with wilds (96,08% RTP).
Chun Li – drops 2 or 7 random wilds on the screen (96.08% RTP).
Blanka – brings 1 wild or turns an entire reel (of 5 symbols) wild (96.08% RTP).
Ken – gets you 1 wild or turns a whole row of symbols wild (96.06% RTP).
When you have decided upon your favourite character, the game starts.
Let the fighting commence!
Extra Wilds and Health Meters
The goal is to spin as many clusters of the premium symbols as possible. These ensure the Wild meters are filled. When it's full, your avatar will use its extra power, and extra wilds will appear on the reels.
You can activate your special power several times in a row.
Are you spinning a cluster of 4 or more symbols with your (winning) character on them? Then your opponent's health meter will drop.
If you hit a cluster with the winning image of your opponent, your health meter will decline.
The first one, with an empty meter, loses the fight.
Free spins bonus
Did you win the battle? That's good! You'll win the main bonus, the Beat The Boss Free Spins.
This is the main bonus, where you may try to defeat up to four bosses. After each successful battle, your multiplier is increased, up to a maximum of x 10. If you defeat all bosses, you also grab a bonus of 100 x the bet.
By the way, if you lose the battle during the base game, there is a mini consolation bonus. Like in the original game, you are allowed to molest a car for a small mystery prize. The prize money isn't that much (it yields a maximum of 15 x the bet), but it's great fun to smash and kick the car to smithereens.
The Insert Coin gamble feature
If you've lost to a boss, you are given a choice to replay the bonus round in exchange for part of your winnings.
Remarkably, the theoretical RTP then immediately skyrockets to 98.7%-100%.
Our verdict on Street Fighter 2?
We love old arcade games. It brings us back to the days of Bubble Bobble, Rainbow Islands and Galaga.
And then we also love online slots.
Netent gave themselves a pretty challenge with the development and execution of Street Fighter 2: it's become quite a complicated slot, in which you have to invest some time to get the hang of it.
With all the game characters, the battles, the boosters and the bosses, you get the feeling you're in the middle of the game, with all the excitement that comes with it.
Especially when both meters are close to zero, you're glued to your screen: will you manage to land that lucrative main bonus or is it only that tiny consolation prize?
A top Netent release that lives up to all the high expectations.
4.5 out of 5 stars
#1
🍒Thousands of Slot Games
✅Professional Customer Service
⚡️Withdrawal lock option
#2

❤️Best Mobile Casino
🎁VIP Bonus Options
🍓Live Casino Bonuses
#3

🔥New Casino
⚡️Quick Banking
🍒Reward Scheme