Table of Content
Jump to Section..
Crypto Games is an online casino that has focused on blockchain and cryptocurrency iGaming exclusively. Everything on this portal is created to accommodate players interested in betting with cryptocurrency.
Whatever the digital currency you use – from Bitcoin to Ethereum, to Litecoin and beyond, you will find a suitable online gambling experience here. Apparently, the casino has put a lot of effort into creating a versatile portfolio. As a crypto user myself, I can confirm that it is well worth your while.
In today's Casino Games review, I will give you my reasons for sticking with this excellent blockchain-powered casino.
Crypto Games Slot Games & Providers
Crypto Games online casino offers a remarkable variety of games designed specifically for the crypto gaming industry. You are probably wondering – how does this work exactly? It's, in fact, very simple.
Each of the listed cryptocurrencies on the website offers access to the individualised lobby where you can play currency-specific games. In other words, you will have access to different slots depending on the cryptocurrency you choose.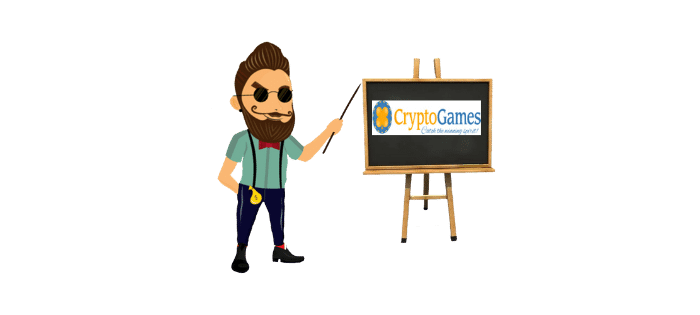 In each case, though, you will be able to see a full statistic of all bets made as well as their outcome. The casino similarly features a small How to Play section as well as a Provably Fair section where the fairness of each outcome is justified and proven.
Apart from that, you will be able to find games for each of the listed cryptocurrencies of the website, including roulette, blackjack, slot, and video poker. In addition, there is a Lottery game once again played with cryptocurrencies.
As to specific games exclusive to the blockchain segment, you can always hop over to the Plinko, Minesweeper or Dice sections. These three types of games offer you a slightly more innovative approach to the traditional gaming experience, and I definitely recommend them.
Low House Edge & Progressive Jackpots
In fact, by choosing to check out some of the most innovative games, such as dice, for example, you will lose most of the house edge. A dice game at Crypto Games online casino has a very narrow 0.8% house edge, smaller than any other segment – bar a few exceptions.
Not only that, but you can also play for a shot at the progressive jackpots that dice games come with to offer you a slight boost to your overall prospects. Besides, blockchain makes it very easy to play as they experience smoother than ever.
Impossible for a Casino or Player to Cheat
Crypto Games has leveraged the power of blockchain to prevent any cheats. The casino uses an innovative SHA512 generator which syncs the information between the server and client to verify each bet, win and withdrawal request.
I have found the generator to be an efficient way to ensure the safety of each individual wager. But beyond the technical expertise that goes in upholding player safety, Crypto Games offers more.
In fact, this crypto casino is also licensed by Curacao eGaming, offering further protection. I was also pleased to discover the seal of approval of Crypto Gambling Foundation, another trustworthy authority that attests the security of Crypto Games online casino to me.
Great on Mobile
Crypto Games being a crypto casino, I immediately wanted to test how it holds up on mobile. So, I dusted off my smartphones and tested from both iOS and Android. On both occasions, I found the offer to work perfectly and well in line with my expectations.
I was pleased to be able to register, charge my account and even request a small withdrawal after a few lucky rolls of the dice. Overall, I found the mobile experience to be up to scratch, and I can definitely recommend it to you.
Customer Support
You can get in touch with customer support in no time at all. Just hop on to your email and drop the casino a line at [email protected]. If you prefer, you can head straight to their dedicated help centre at crypto-games.zendesk.com.
If you want to seek help from fellow community members, don't miss out to hop in the communal chat. In the meantime, there is also an FAQ section where some of the most commonly asked questions find their answers quickly and reliably.
Not least of all, the casino is all about transparency. You can jump in the chat and talk to community members, ask them about their opinions of the casino and see what their opinions are. There are also statistics that displays the current number of players in real-time.
Final Word
Crypto Games online casino offers a completely new approach to casino gaming and one you are certainly bound to enjoy. The fact that all games are available under specific categories of cryptocurrency is also very interesting, at least to me. This way, you know exactly what games each coin has to offer, and perhaps make the choice of picking a cryptocurrency easier.
Of course, it never hurts playing with the most popular digital tokens as well, but in my opinion – they are all worth your while. Safe and secure, Crypto Games is indeed a property you can trust in full.