Pirate Queen Slot Review (TaDa Gaming)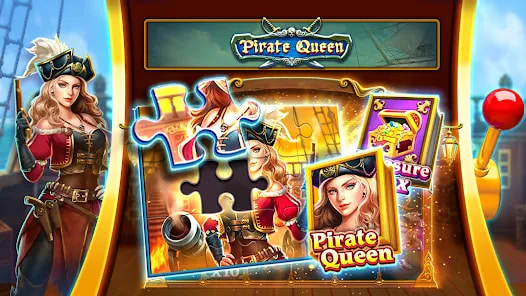 Casino Hipster's Pirate Queen review will discuss everything there is to know about the online slot. Prepare for an adventurous experience on the reels of the Pirate Queen slot, and you might just get a big reward from the Pirate Queen. With features like Bonus Buy, free spins, multipliers and symbol conversion, you can win a maximum of 10,000x in this online slot.
Play Now
Game Provider:

Release Date:
February 2023
Pirate Queen Review
Pirate Queen is one of the latest online slots from TaDa Gaming. The game was released into the iGaming market in February 2023 with several exciting features. Set on 6 reels and 5 rows, Pirate Queen uses the regular fixed paylines system instead of Megaways. It has 40 fixed paylines, meaning you must bet on all the paylines every single round. As for the betting limits, you can play this slot for as low as €0.1 up to €100.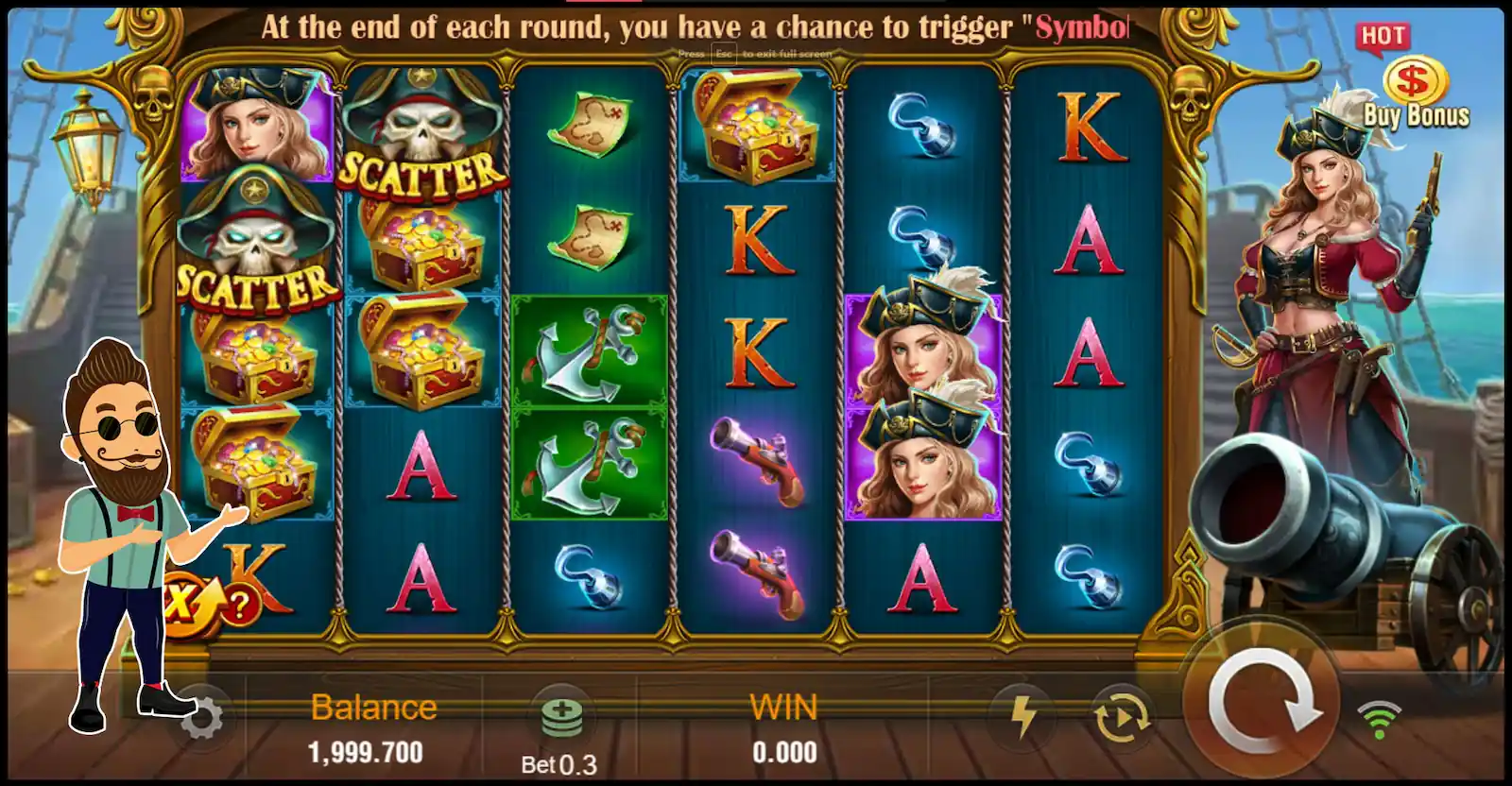 Regarding the theme, Pirate Queen is a pirate-themed slot, as you might have deduced from the title. The storyline features a Pirate Queen destroying a ship and taking the riches. And if things go your way, you might just be able to share part of those riches, up to a maximum win of 10,000x. Get ready to trigger features like free spins and multipliers in this online slot.

Pirate Queen Features
TaDa Gaming has included several impressive features in Pirate Queen, making the game fun. First is the cascading reels feature that allows you to hit multiple wins in a single spin. There is also a Bonus Buy feature that you can use to buy the free games/free spin rounds at a price.
Pirate Queen has a unique Extra Bet feature, which, when used, will increase your chances of getting free spins by 2x. But this feature comes at a price of 50% of your wager. Besides that, regular features like Autospins and Turbo mode are also available in the Pirate Queen slot.
Pirate Queen Symbols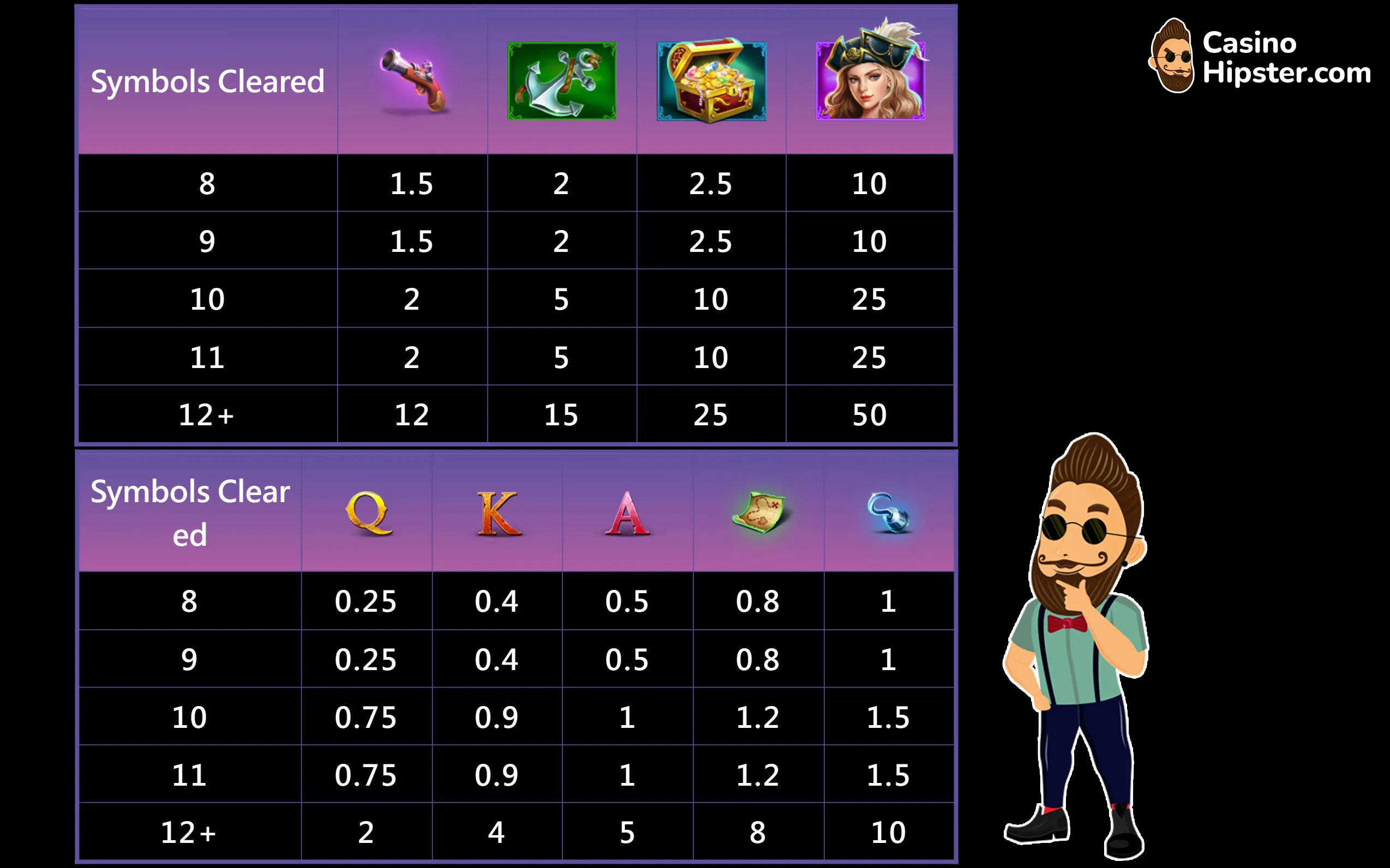 Various symbols populate Pirate Queen reels. These symbols are of two categories, the low-paying symbols and the high-paying symbols. The low-paying symbols are Q, K, A, a map and a hook. As for the high-paying symbols, you will find a pirate gun, a ship anchor, a box of treasures and the Pirate Queen herself.
Besides these regular playing symbols, the Pirate Queen slot has some special symbols. The death pirate scatter represents the scatter symbol, and a powder flask (pirate grenade) can also appear to give multipliers.
| Symbol | Payout Info |
| --- | --- |
| Symbol Q | 8 pays 0.25, 9 pays 0.25, 10 pays 0.75, 11 pays 0.75, 12+ pays 2 |
| Symbol K | 8 pays 0.4, 9 pays 0.4, 10 pays 0.9, 11 pays 0.9, 12+ pays 4 |
| Symbol A | 8 pays 0.5, 9 pays 0.5, 10 pays 1, 11 pays 1, 12+ pays 5 |
| Map | 8 pays 0.8, 9 pays 0.8, 10 pays 1.2, 11 pays 1.2, 12+ pays 8 |
| Hook | 8 pays 1, 9 pays 1, 10 pays 1.5, 11 pays 1.5, 12+ pays 10 |
| Shotgun | 8 pays 1.5, 9 pays 1.5, 10 pays 2, 11 pays 2, 12+ pays 12 |
| Ship Anchor | 8 pays 2, 9 pays 2, 10 pays 5, 11 pays 5, 12+ pays 15 |
| Box of Treasures | 8 pays 2.5, 9 pays 2.5, 10 pays 10, 11 pays 10, 12+ pays 25 |
| Pirate Queen | 8 pays 10, 9 pays 10, 10 pays 25, 11 pays 25, 12+ pays 50 |
| Pirate Death Scatter | Scatter symbol |
| Powder Flask | Special symbol |
Pirate Queen RTP & Volatility
Return to Player (RTP) and volatility are essential to consider before playing an online slot. Pirate Queen has an incredibly high RTP of 97%, higher than most other slots offer. This means that if the total wager on the game throughout its lifetime is €100, then players can expect €97 as winnings in the long run. The 97% RTP is also higher than the industry's standard average of 95% for a good slot.
In addition to having a high RTP value, Pirate Queen is a high volatility slot. This means the game can occasionally pay huge winnings, making it even more rewarding. You can be lucky to win a maximum of 10,000x of your wager in a single spin.
Pirate Queen Bonuses
The Pirate Queen slot has some bonus features you can trigger anytime. These bonus features can sometimes lead to a chance to hit more wins and are usually linked to a special symbol.
Apart from the game's bonus features, some Pirate Queen casinos have bonus offers for players to claim and use on the slot. However, consider the wagering requirements and other conditions before claiming a casino bonus.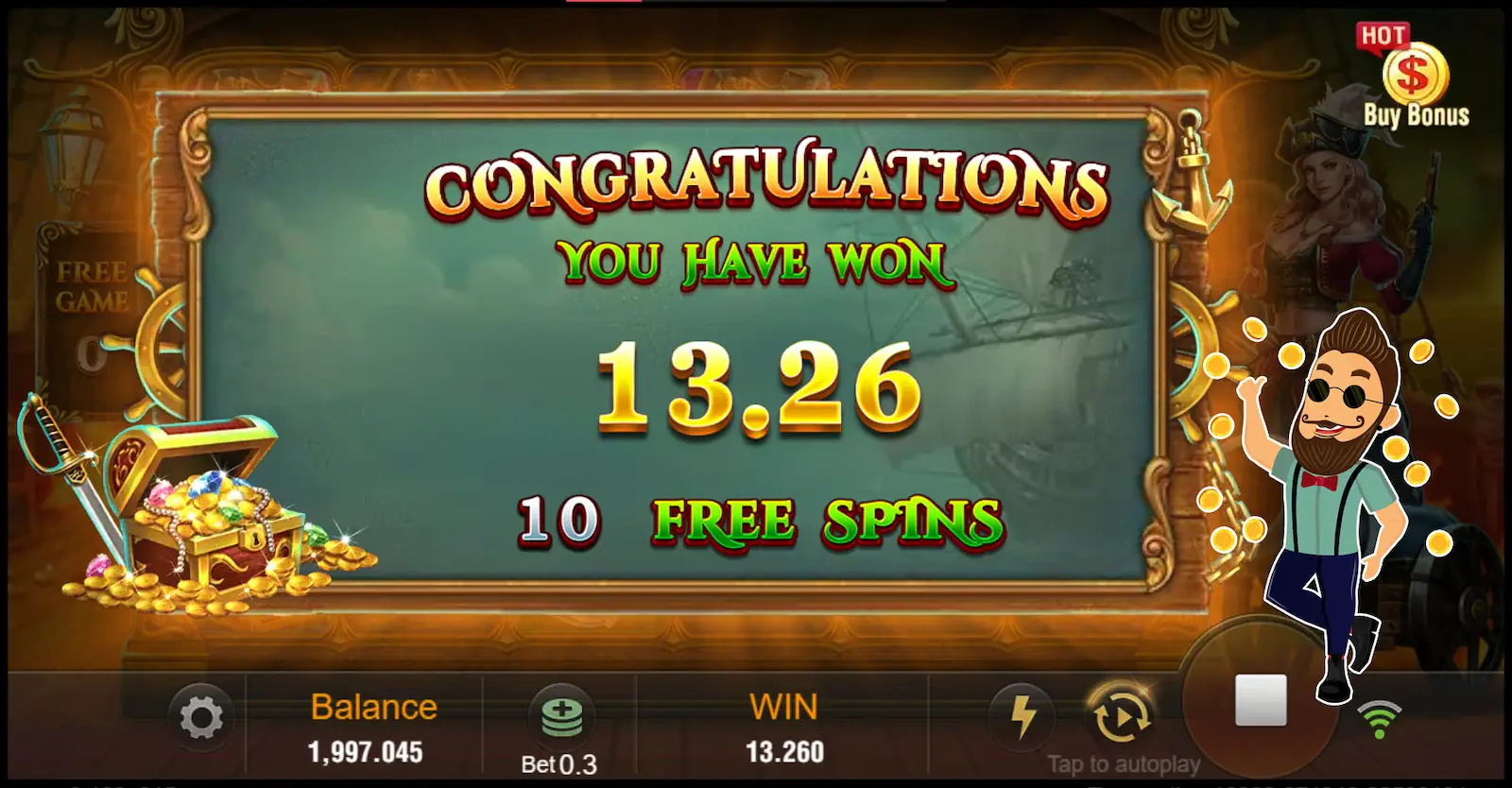 Pirate Queen Free Spins
The Free Spin feature is the major feature of Pirate Queen. To trigger this feature, land four or more scatters on the reels simultaneously. You will be awarded 10 free spins, and if you land three or more scatters during the free game rounds, you get additional 5 free spins. Landing powder flask symbols during the free game rounds will also give you multipliers between 2x and 100x.
In addition to the Pirate Queen Free Spin feature, some top online casinos offer daily free spins usable on the slot. These are casino promotions, and as such, they come with wagering requirements and other conditions.
Pirate Queen Symbol Conversion
This feature can be triggered anytime at the end of a game round. Random symbols are taken from the reels and converted to the same symbol, increasing your chances of forming a winning sequence. And remember, to win in Pirate Queen, you must simultaneously land at least eight identical symbols on a payline.
Best Pirate Queen Casinos by Category
Here are the best real money online casinos where you can play the Pirate Queen slot.

Pros & Cons of Pirate Queen
Every online slot has its good and bad sides. I've listed some of the major pros and drawbacks of the Pirate Queen slot below.

Pros
High max win, 10,000x
Exciting features
High volatility
97% RTP
Mobile-friendly game
Bonus Buy feature

Cons
No progressive jackpot
No Megaways
More bonus features could be added
Top Reasons to Play Pirate Queen
In this section, I will outline the top four reasons to consider playing Pirate Queen.
TaDa Gaming has designed Pirate Queen to be visually appealing. The graphics are in HD, allowing you to clearly see all the different symbols and buttons. Besides, Pirate Queen has visual effects you will see in action when you land a winning combination or trigger a bonus feature.
Pirate Queen has several exciting features that add beauty to the gameplay. You can use the Bonus Buy to buy guaranteed free spins or the Extra Bet for a chance to land more scatters. In addition, the Free Spins and Symbol Converter features can allow you to hit more wins.
Whether you are a high roller or prefer low stakes, the Pirate Queen slot is a perfect game for various calibres of players. This is because the wagering limit is flexible, and you can play the game for as low as €0.1 up to €100 per spin. And the best part is that the gameplay is simple and requires no special skill.
Although Pirate Queen is not a progressive jackpot slot, it offers incredibly high payouts, a maximum of 10,000x your stake. This means that if you wager the highest possible amount of €100, you can win up to €1,000,000 in a single spin. Compared to most other non-progressive jackpot slots, this figure is massive.
Pirate Queen Tips & Tricks
Every casino game has a few tricks you can apply to theoretically improve your chances of winning. The same is true for the Pirate Queen slot, and I will give you some useful tips and tricks. First, you should play the game's demo version to familiarise yourself with the gameplay. In my case, I played the demo version to understand how the features work before playing for real money.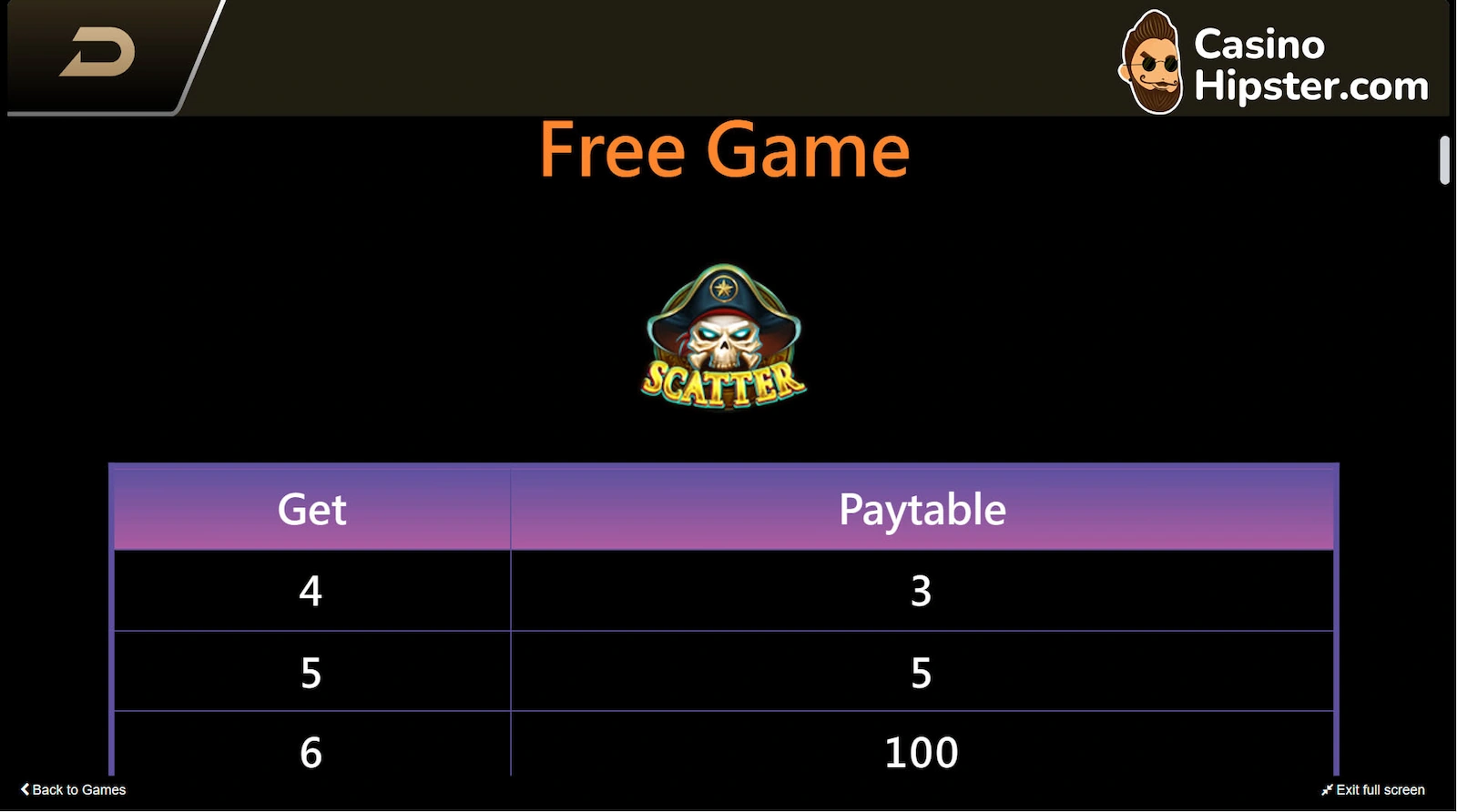 Another trick I used was to take advantage of the free spins through the Bonus Buy feature. I noticed that with the free spins active, there is a higher chance of hitting bigger wins. You should consider using the Bonus Buy feature for guaranteed free spins. Lastly, spread your budget to cover more wagers and only play with money you can afford to lose.
My Experience Playing Pirate Queen
After playing the Pirate Queen slot for a decent period, here is my experience with the game.
Like most modern online slots, the gameplay and rules of the Pirate Queen slot are simple. I was able to play the game easily without any sophisticated configurations. All I needed to do was specify my bet size and spin the reels.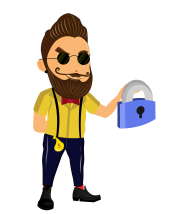 The high volatility nature of the Pirate Queen slot makes it a great game to play. Although I did not hit wins on every spin, the returns were usually decent each time I hit a winning sequence.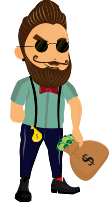 The features embedded in Pirate Queen add to the game's excitement. I could use the Bonus Buy feature to get guaranteed free spins, and the Extra Bet feature also increases the frequency of scatters on the reels.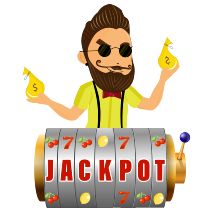 Pirate Queen is a mobile-friendly slot, and I could play the game on my smartphone and tablet. The best part is that I didn't have to install a Flashplayer app on my device to play on mobile, and the experience was great.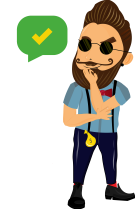 Alternatives to Pirate Queen
High RTP
Phoenix Legend Slot Review (Funta Gaming)
High RTP
Pirate's Map Slot Review (Platipus Gaming)
High RTP
Wild Spin Deluxe Slot Review (Platipus Gaming)
Conclusion
After reviewing the Pirate Queen slot extensively, I must say it is a top game to try. TaDa Gaming has done well with the slot's design, which is visually impressive. Besides, the wagering limit accommodates various players, with the minimum bet at €0.1 and the maximum at €100.
In addition, Pirate Queen has many exciting features like the Bonus Buy, Extra Buy, Free Spins and so on. You can also win a whooping 10,000x your wager in a single spin in this 97% RTP slot. So why not play Pirate Queen today at one of Casino Hipster's recommended online casinos?!
Pirate Queen FAQs
Who developed Pirate Queen?
TaDa Gaming developed Pirate Queen, an online slot that was released in 2023.
What are the best Pirate Queen casinos?
You can find the best online casinos to play Pirate Queen on this review page.
Does Pirate Queen offer free spins?
Yes. You can trigger free spins in the Pirate Queen slot by landing four or more scatters on the reels.