Marching Legions (Relax Gaming) slot review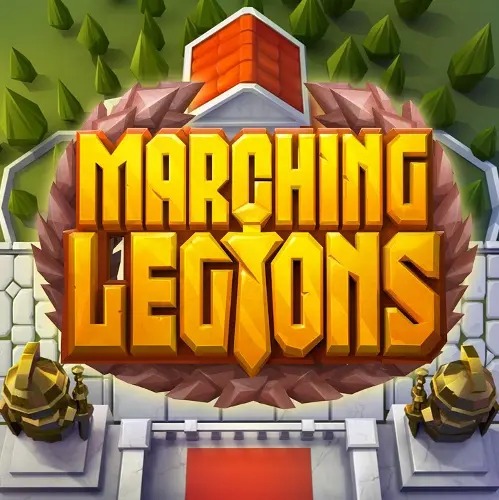 So often does Relax Gaming show up with something different! Again, they managed to surprise me positively. There are soldiers, marching along on the screen: disciplined and in line. The latter, by the way, is the key to success. In particular, if you have several reels of marching soldiers.
Play Now
Game Provider:

Table of contents
Best of The Month

100% up to

€500 Bonus

+ 200 Free Spins
Join
Best Bonus
Latest Casino News
Marching Legions slot (Relax Gaming) is a more than an entertaining slot with an outstanding RTP of 98.12%.
What's also worth mentioning is the fantastic and outstanding payout percentage of no less than 98.12%!
But the slot has much more to offer. I'll tell you in a minute.
And last but not least…
… Marching Legions has a max win of no less than 10.000x the bet!
If you bet a hundred, you can march yourself home a flat million!
But also, one Dollar or Euro gets you a blistering ten grand!
In short, what are we waiting for?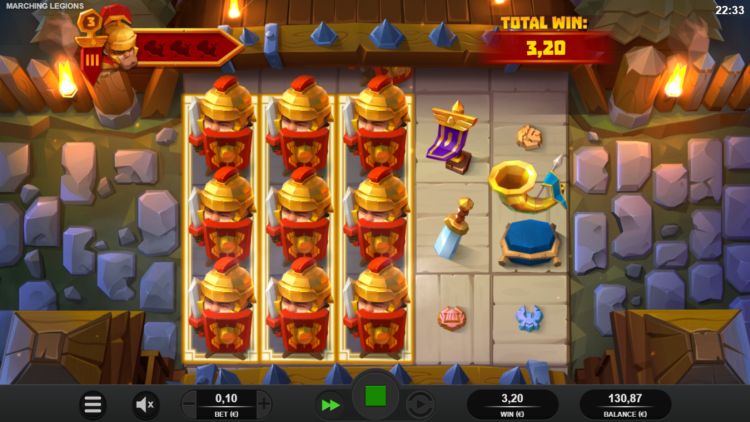 Marching Legions slot – Gameplay and Features
Marching Legions has 5 reels with 3 symbols each. There are 243 ways to win, according to the win all ways concept.
The three lower-paying symbols are kinds of dull bronze, silver, and gold medals. The four premium symbols are a flag, the soldiers, a wreath, and a sword.
The flag may be the most lucrative symbol (5-of-a-kind yields 3x), but it's really all about the soldiers (5-of-a-kind yields 2.5x).
Nudge feature and Re-spins feature
Sometimes the soldiers "nudge" when you've got two on a reel to a fully stacked reel (with three soldiers). It happens as long as there are no other reels stacked with three soldiers.
But not to worry. As long as you have three soldiers on a reel, they march from reel to reel, from right to left. You get free re-spins as long as the soldiers keep on marching.
For example: if you get a stacked reel with soldiers on reel 4, you get free four re-spins (from reel 4 to reel 3, then from reel 3 to reel 2, then from reel 2 to reel 1, and finally from reel 1 to the outside of the playing field).
If you have a few consecutive reels with three soldiers each, it will be more than fun!
How do you activate the free spins?
Every time a reel of soldiers leaves the playing field, you fill the Collect meter with 1 "token." In the end, you'll need 330 of those!
If that tests your patience too much (you'll need a couple of thousand spins), you can also use the Buy a Bonus Feature: you pay 120x the original bet to gain immediate access.
You can also do it halfway. For example, if you have collected 165 tokens (out of 330), you can buy the free spins for 60x the original bet (instead of 120x the stake).
The free spins – up to 5 waves with marching soldiers
You start at Wave 1. There you get a row of 3 soldiers on reel 5. They march from right to left. So you have a guaranteed 6 free spins.
If you manage to collect three golden cones (horns) within those 5 free spins, you may proceed to Wave 2.
Here the same thing happens, but now you get two reels with soldiers (on reels 4 and 5). Again, you get 6 free spins, and you hope for three cones so that you can progress to Wave 3.
In Wave 3, you get three reels with 3 soldiers: on reels 3, 4, and 5. If they walk from right to left, you'll get a huge win if they are on reels 1, 2, and 3 (thanks to the win all ways). If you collect three cones again, you move to Wave 4.
And indeed, there you get 4 reels with three soldiers. So, you already know that the win will be several hundred times the bet.
If you manage to collect the last three cones, winnings can go through the roof! In the last Wave, Wave 5, you'll have five reels with 3 soldiers.
Your win will be over 1.000x the bet!
Payout percentage (RTP)
The RTP is 98.12% in the main game. How about that!
If you opt for the Buy a Bonus Feature, the payout percentage is still a beautiful 97.13%.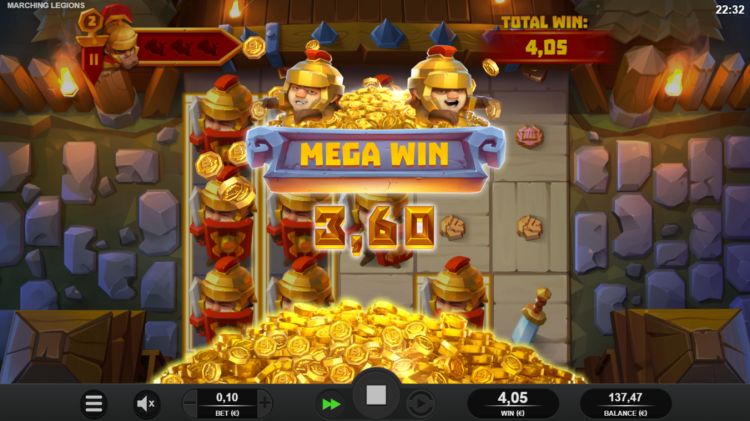 Marching Legions – The variance (volatility) is high
Relax Gaming usually doesn't give much information on the slot variance, but the first signals all point in the same direction. In other words, the variance is high.
The max win is 10.000x, and we know that the win easily exceeds 1,000 the bet if you manage to reach the 5th Wave.
Pros and cons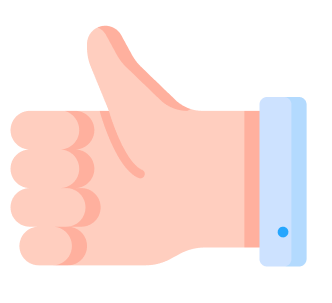 Pros
Original slot
Incredibly thrilling. Will you collect the three cones required to go to the next Wave?
Enormous win potential
The RTP is outstanding: 98.12%
Cons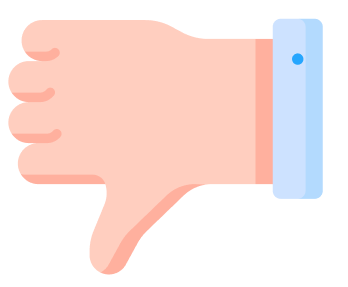 You have to wait a very, very long time to activate the free spins.
330 tokens is a lot, so you'll most probably need the Buy a Bonus Feature.
If you don't, and you stop playing halfway (because you haven't collected enough tokens), the RTP is much lower.
So, who'll like the slot? And who won't?
The slot will appeal to players who appreciate an original slot and don't mind taking their time. You'll need lots of patience to trigger the free spins.
If you don't have the time, but do have a fat wallet, then you're in the right place, thanks to the Buy a Bonus Feature.
#1
🍒Thousands of Slot Games
✅Professional Customer Service
⚡️Withdrawal lock option
#2

❤️Best Mobile Casino
🎁VIP Bonus Options
🍓Live Casino Bonuses
#3

😍Daily Promotions
🎁Huge Bonus Package
⚡️Extremely Fast Site