Jack Hammer 2 slot review (Netent)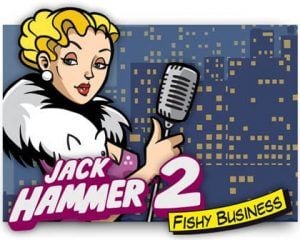 This is the second instalment of this enthralling video slot game that takes place in the gritty world of Jack Hammer, crime-fighting Private Investigator extraordinaire. In this instalment, he has a new target, the claw-handed Don Crabby who is holding Pearl, a frantic "damsel in distress". Of course, it is up to Jack to try and rescue the girl.
Play Now
Game Provider:

Jack Hammer 2  is  Netent's sequel of the very popular Jack Hammer vs. Evil Dr. Wuten
Jack Hammer 2 can be played on your Mac, Windows or Linux desktop or laptop computers and runs perfectly smooth on your mobile device as well, whether Android or iOS.
This fast-paced and very exciting slot has 99 fixed pay lines leaving plenty of opportunity for big wins. The game mechanism is similar to the first Jack Hammer edition: you spin as long as you make new winning combinations. If you manage to get a screen full of symbols, huge wins will come your way.
As you enter Jack Hammer 2, you are shown a short animated film to introduce you to the various colourful characters in the game.
If you've played the original Jack Hammer, you will see the familiar comic book type renderings in vivid colours including a beautiful Grand City Bridge silhouette against a blue background with a faint outline of the city behind it.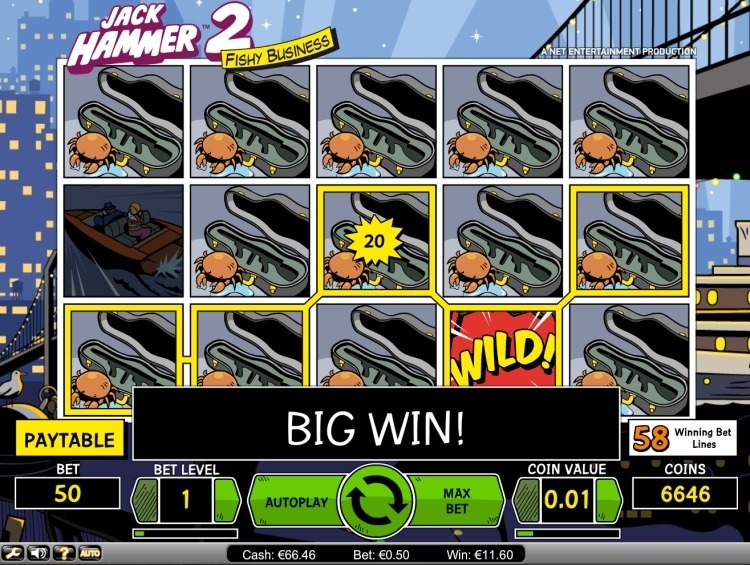 Symbol values
The symbol with the highest value is the hero of the game, Jack Hammer and he's either fighting or sporting a smile. Next, we have Pearl, crying out in anguish in one version and clutching a microphone in the other. The third highest valued symbol is Don Crabby, and he appears both smiling and with a grimace on his face. Don's thugs are the fourth highest valued symbol, with them getting ready to fight in one version and in the other, they're beaten to a pulp.
Lower-valued symbols include a dock, a motorboat and an empty case for a gun.
Sweet background sounds give you the feeling of sitting by a bridge after dark. You can hear water rushing against some docks and the faint squawking of a bird. The music builds the suspense while playing the Sticky Wins. When you have a winning combo, you'll hear the orchestra of a big band playing.
Jack Hammer 2 game features
If you get lucky and have 3 or more symbols pop up in a winning combo, the Sticky Win feature will be triggered. This means the reels that have winning symbols on them stay put while the others re-spin, giving you an opportunity for more wins. The reels keep spinning until no additional winning combos are formed. The explosive Wild symbol replaces any of the other symbols, apart from the Free Spin, which is symbolised by an Electric Eel.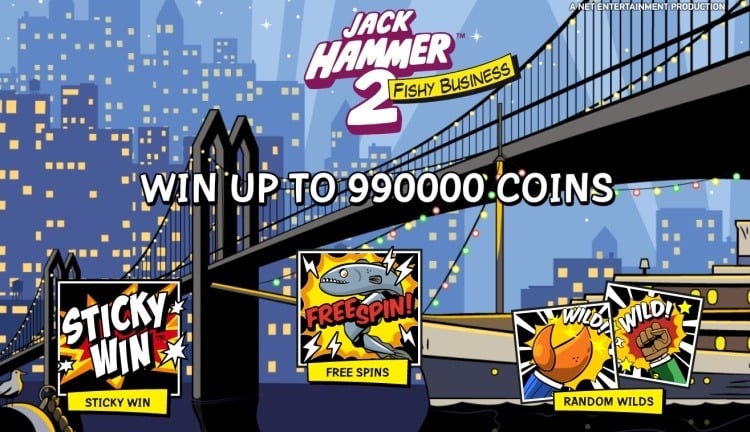 Bonus features Jack Hammer 2 slot
The electric eel symbol is the one you are looking for to get the Free Spins feature. When 4 or more of these slippery fish pop up simultaneously, any place on your reels, you get free spins. 5 eels will win you 10 free spins, 6 eels will win you 13 free spins. 7 will win you 16, and 8 or more will win you 20 free spins. Each initial free spin in the bonus round comes with a 2x multiplier, and during every spin one symbol will always turn wild, increasing your chances of hitting it big.
It is possible to trigger more free spins during the bonus feature, but these won't come with a 2X multiplier as your initial winnings did.
During the Free Spins, you'll hear some excellent retro music playing in the background, adding to the great 50's bootlegging atmosphere.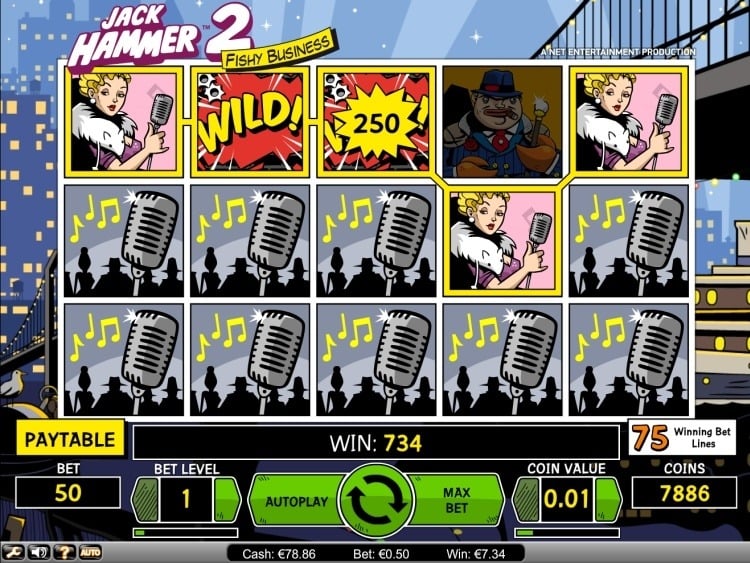 Jack Hammer 2: the verdict
We quite like the Jack Hammer 2 slot although it is not as enjoyable as the original Jack Hammer. Bonus rounds are scarce, and the increased number of win lines do not seem to drive more frequent wins.
This online slot is polished enough, and the theme is fantastic, but it seems a bit of a pointless exercise after the brilliant and already hugely popular Jack Hammer 1. Three stars out of five, but only just.

🔥New Casino
⚡️Quick Banking
🍒Reward Scheme

❤️Best Mobile Casino
🎁VIP Bonus Options
🍓Live Casino Bonuses
🍒Thousands of Slot Games
✅Professional Customer Service
⚡️Withdrawal lock option