Fruity Liner 100 Slot Review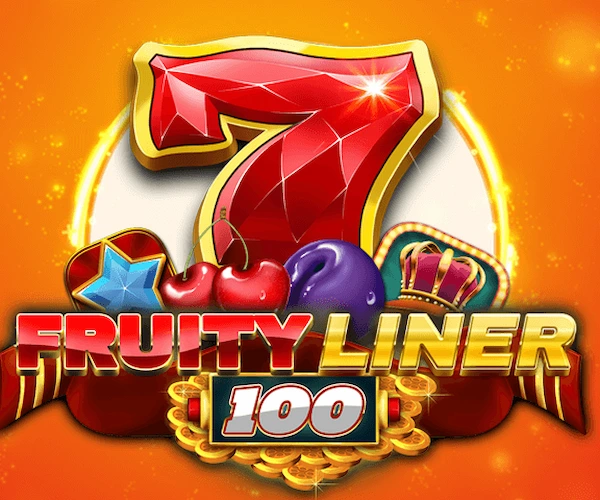 Enjoy spinning the reels with endless possibilities on Fruityliner 100 Slot from Mancala Gaming. The 5x4 grid layout video slot game has 95% RTP with 100 winning lines, Wild Crown symbol, and Scatter Star symbol, and it offers a chance to win up to 1200x your bet.
Play Now
Game Provider:
Paylines:
5 reels, up to 100 paylines
Release Date:
30 March 2023
Fruity Liner 100 Slot – Juicy Thrill and Colourful Play
Take a trip to a world filled with fruity symbols and a limitless well of possibilities, offering a perfect mix of fun and simplicity. Fruity Liner 100 from Mancala Gaming is a new slot on the market that has continued to rise through the ranks, offering exciting stacked symbols, a chance to win a substantial payout, and the thrill of spinning the reels. 
Mancala Gaming is known for its unique approach to game design and development, and it didn't disappoint with Fruity Liner 100. Although Fruity Liner 100 is a fruit-themed slot, it comes with a little extra. It is not just the usual base gameplay; it has some exciting add-ons making the game more exciting. With 5 reels and 4 rows, Fruityliner is different from the classics, even though it has all the makings of one with its fruit-based symbols. However, the slot has special symbols that improve the gameplay. With enough patience and luck, players can win up to 1200x. So, join me as I give my honest Fruity Liner 100 slot review.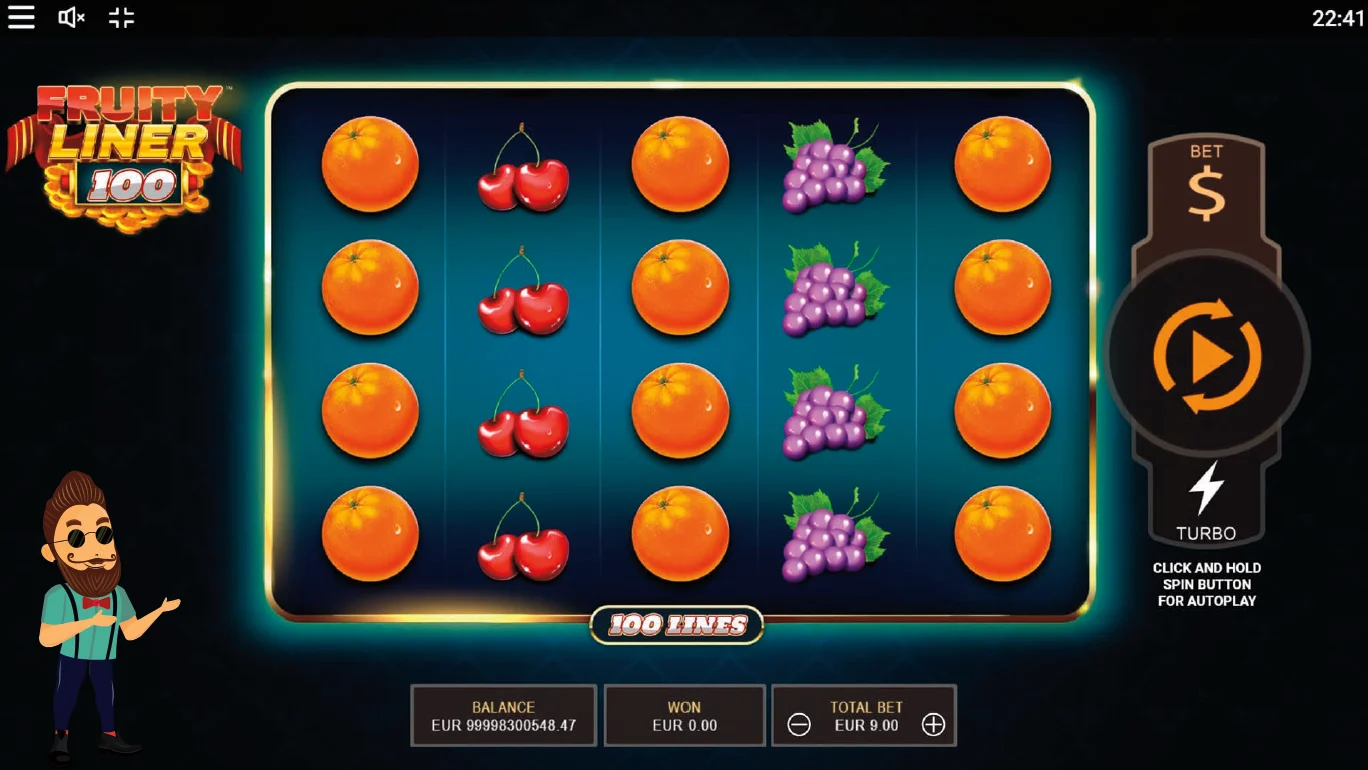 Fruity Liner 100 Slot Features – What it Entails
Fruity Liner 100 is a straightforward game with some extra. The slot is home to fruit symbols and a few specials. It has 100 pay lines, increasing your chances of getting a payout. Fruityliner 100 has Scatter and Stacked symbols, making the game more exciting than standard classic slots. All symbols except the Scatter are Stacked in groups. Only one Scatter symbol can appear on a reel. As a result, every spin is a step closer to a mouthwatering return. Aside from that, the slot has an Autoplay feature with advanced options like Loss Limit and Max Win per Spin. It also has a Turbo feature if you want to increase the speed of the spins. Unfortunately, Fruity Liner 100 Slot doesn't offer a bonus buy feature at the moment. If you are looking for a good slot with a bonus buy feature, you can take a look at CasinoHipster's top 10 online slots with a bonus buy feature list to get into action quickly!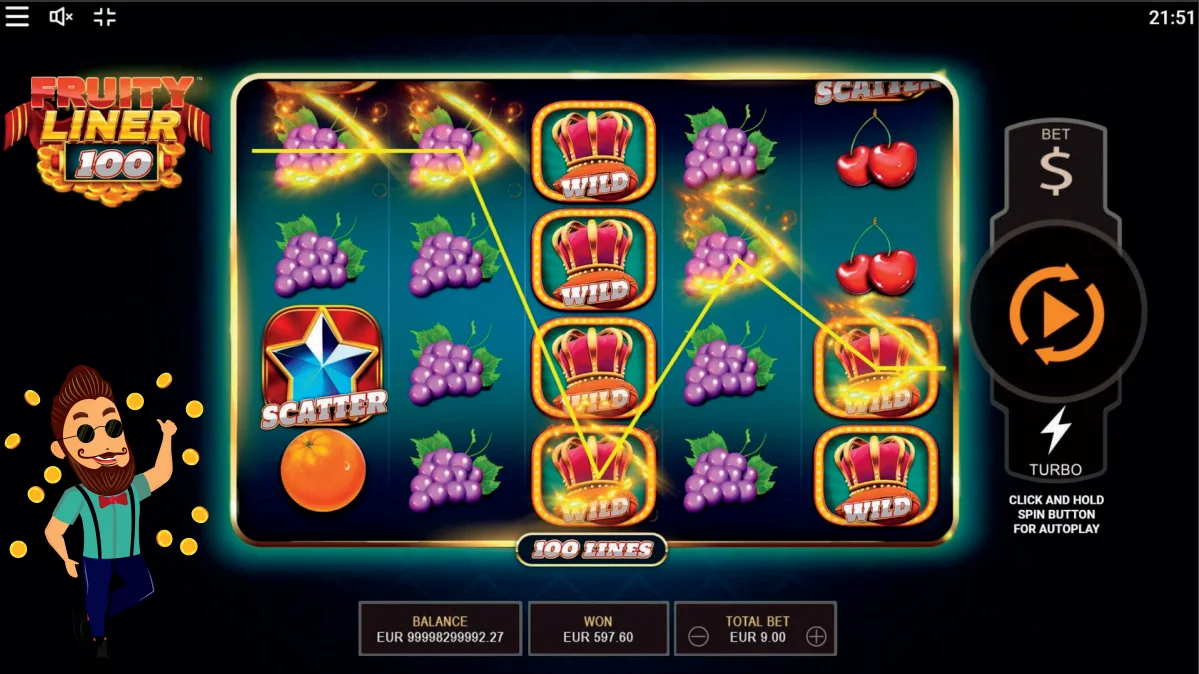 Fruity Liner 100 RTP & Volatility – What to Expect
Most Mancala Gaming slots come with a 95% RTP rate, and Fruity Liner 100 is no different. Although the RTP is not up to the current industry standard, the slot makes up for it with the extra specials. You might think that online slots with an RTP above 97 will satisfy you more, but with Fruity Liner 100 slot special features, you can still spin for a good return if you're lucky. Additionally, the slot has high volatility. As a result, it is a perfect game for high rollers and patient players, I know, it sounds like me! 
If you're a profit player or low-roller, you shouldn't consider this game because it takes time to hit a winning combination.And the more you can bet, the better your chances of winning something tangible from the slot. 
If you like Mancala Gaming style like me, you can check low or medium volatility slot games from Mancala Gaming, such as Book of Wealth or Seth vs Horus.
Fruity Liner 100 Slot Symbols
| Symbol | Payout Info |
| --- | --- |
| Scatter | 3x,4x,5x = 50, 150, 5000 |
| Wild | 3x,4x,5x = 5, 70, 250 |
| 7 | 3x,4x,5x = 2, 25, 120 |
| Watermelon | 3x,4x,5x = 2, 5, 23 |
| Berries | 3x,4x,5x = 2, 5, 23 |
| Orange | 3x,4x,5x = 1, 2, 10 |
| Lemon | 3x,4x,5x = 1, 2, 10 |
| Cherry | 3x,4x,5x = 1, 2, 10 |
Fruity Liner 100 Free Spins
Unfortunately, Fruity Liner 100 doesn't have a free spins feature, even though it has a Scatter symbol. Landing three or more Scatter symbols doesn't trigger free spins. Instead, they offer a higher payout than regular symbols. So, you might want to be on the lookout for this special symbol. 
Fruity Liner 100 Max Win Rates
When you play Fruity Liner 100, you should know that it might take time to land winning combinations. However, you can win up to 1200x your bet if lucky enough. And with the max bet of € 900, you can win over € 1,000,000. This maximum win rate might not seem enough for some fierce gamblers. If this is the case, then I would recommend you take a look at our list of slots where you can win up to 50,000 times your stake.
Fruity Liner 100 Slot Chances of Hitting the Bonus 
Fruity Liner doesn't have a bonus spin feature, but the base game comes with special stacked and scatter symbols. If you want to win big, you need these special symbols to appear. The chances of that happening is slim since this is a high-volatility slot. Therefore, you have to be patient to get a substantial payout.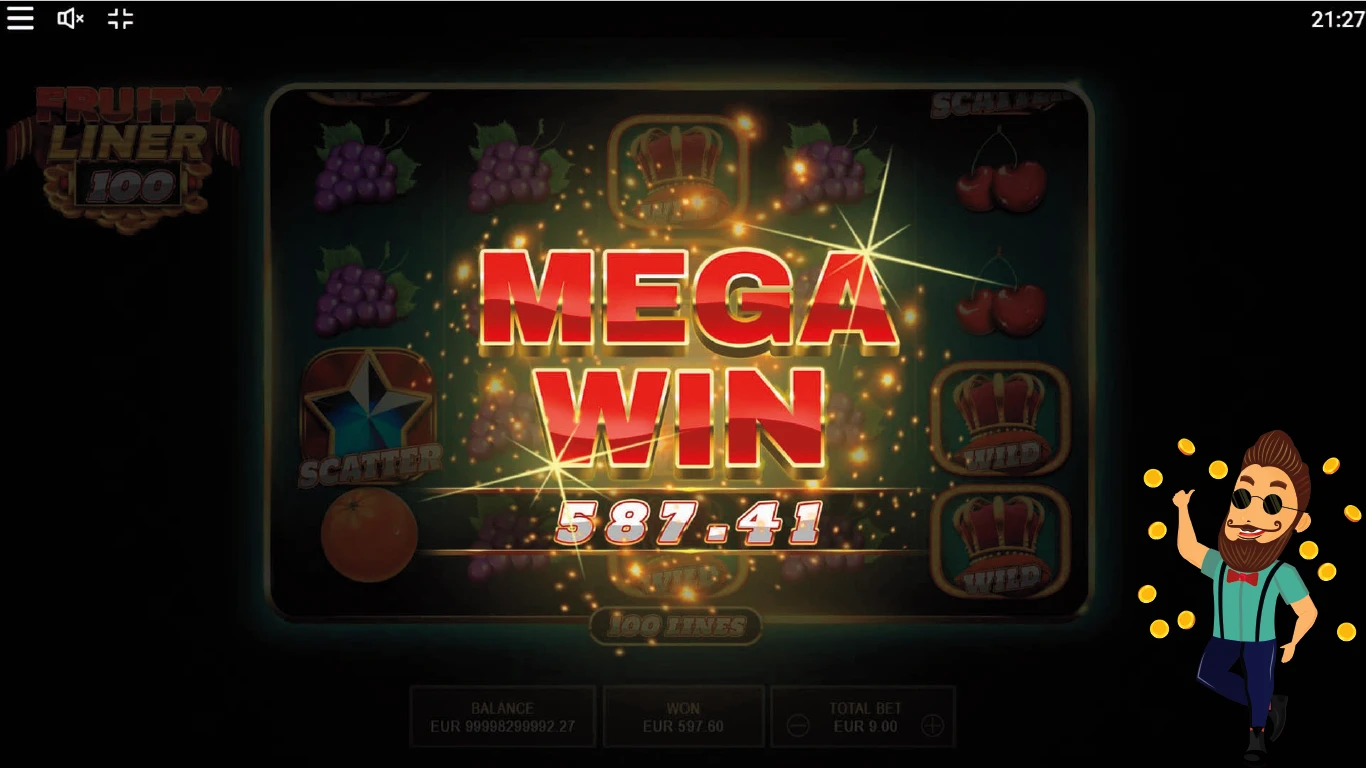 Best Fruity Liner 100 Casino List
If you want to play Fruity Liner 100 for real money, or if you are on the hunt for exciting and winning online slots like Fruity Liner 100, you need an online casino to join. Without it, you can't try the game with actual money. So, you should take the time to check out the casino table to find the one that works. 
Ups and Downs of Fruity Liner 100 Slot 
Playing Fruity Liner has its benefits. The slot has some exciting features making it a worthwhile option for newbies and experienced players. However, it also has its drawbacks, and before you consider playing the game, you should know the upsides and downsides of the slot so you can be prepared for what is to come. 

Pros
Multiple special symbols
Up to 1200x your bet
Available on mobile, tablet, and desktop
Easy to play base game
19 language option

Cons
Not suitable for low budget players
Below average RTP rate
Reasons to Play Fruity Liner 100 Slot
For those contemplating if they should try to play Fruity Liner 100, you should know that the slot has multiple benefits. In that case, you can check some of these top reasons to help you decide. Below are some top reasons why you should consider playing this slot game.
One thing you'll enjoy with this game is the exciting base gameplay. It has different things that will keep you glued to the screen and keep you coming back.Undoubtedly, the slot is worth trying just for the base game. And even though you won't trigger any special bonus rounds, you'll love the twist added to the classic online video slot play.
The slot also has some special symbols that add that extra zing. So, even though it has a fruit theme, you can always expect those extras to enter the fray and make the gaming experience even better. In addition, these special symbols can increase your chances of hitting more wins whenever they appear.
The game is accessible on mobile and other devices. You can play whenever and wherever you want, making it perfect to enjoy your gambling experience. In addition, you can play the game in different languages, depending on the one you're most comfortable with. So, you should enjoy your gambling experience with this game.
When you play this slot, you can win up to 1200x of your bet if you're lucky. But keep in mind that it is a high-volatility game. So, you must be patient and have a substantial bankroll to carry you through your gambling journey. The more you spin the reels, the bigger your chances of winning.
Fruity Liner 100 Slot Tips & Tricks
Like many slots, Fruity Liner 100 is all about luck, and a random number generator controls the outcome. As a result, telling what would come next is impossible. However, you can always increase your chances of winning whenever you play this game by following some tips and tricks. 
Set a budget based on your current bankroll. You can split your balance into segments and take the bits to spin the reels. The more money you can spare, the better because it is a highly volatile slot, and wins are not frequent. You should also check out the slot's paytable for more information.
Take your time to review the different aspects of the game and increase your chances of winning by focusing on the special features. Try the game for free as well. It helps to build a firsthand experience before you risk your real money. Finally, only bet money you can afford to lose and never chase losses. 
My Experience with Fruity Liner 100
After spending some time with this slot, I was intrigued by a few things. The Fruity Liner 100 was worth the try, even though it doesn't have a special bonus round game. Check below to see the different areas that got my attention.
The Base Game Play

: The best part of the game is the base game because it is where everything happens. From when you set your bet to when you hit the winning combination and cash out your wins. 

The Stacked Symbols

: Triggering the stacked symbols feature improves the experience. Although it only happened a few times, it helped improve the gambling experience. 

Scatter Symbols

: The scatter symbols in this slot also make it worth trying. They offer a higher payout than regular symbols. Therefore, they made my experience with Fruity Liner 100 better. 

In-Game Animations

: The animations were not fantastic, but they were more than enough to make the gambling experience quite good, especially when you hit a winning combination. 
Alternatives to the Fruity Liner 100 Slot
High RTP
Mega Ball review (Evolution Gaming)
High RTP
The Dog House slot review (Pragmatic Play)
High RTP
Cash Volt slot review (Red Tiger)
Conclusion
Fruity Liner 100 is a classic slot with a twist. The slot offers players a chance to win up to 1200x your bet. You can activate the stacked symbols feature to improve the gameplay. In addition, the scatter symbols can appear to offer more wins. The downside is that there are no bonus rounds, and this is a highly volatile slot so for newbies or medium-budget players might not get the best experience. Therefore, I only recommend it to high rollers who can be patient. 
Fruity Liner 100 FAQ
Who developed Fruity Liner 100?
This slot game was created by Mancala Gaming.
Can I play Fruity Liner 100 for free?
Yes, the best way to find Fruity Liner 100 slot free play is to check reliable online casinos I list or the official Mancala Gaming website, they have demo versions for all of their slot games.
Does Fruity Liner 100 has a Bonus Buy feature?
No, unfortunately Frutiy Liner 100 slot doesn't provide a Bonus Buy feature.
What is the RTP of Fruity Liner 100?
The return to player rate of Fruity Liner 100 is 95%.
Does Fruity Liner 100 offer free spins?
Unfortunately, this slot doesn't offer any free spin rounds.