Dragon Match Megaways slot review (iSoftbet)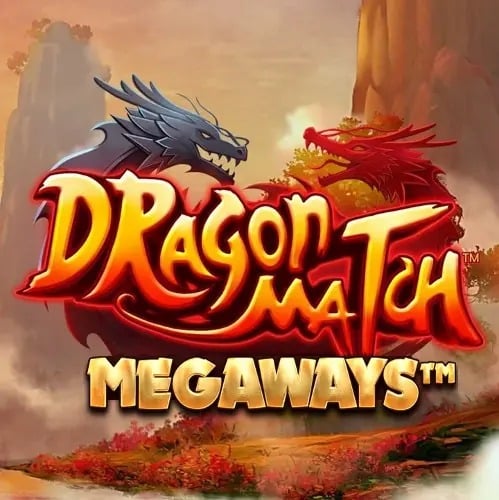 Dragon Match Megaways is, after Majestic Megaways and Aztec Gold Megaways, already iSoftbet's third Megaways slot in one year. This is excellent news for the ever-growing fan base of Megaways slots: the first two iSoftbet slots were already good, and this third one is perhaps even better.
Play Now
Game Provider:

Creating a Megaways slot is not that special anymore: almost every self-respecting slot provider has made one or is working hard on it.
But designing an original Megaways slot, that is, a whole different story.
With Dragon Match, iSoftbet has splendidly succeeded in breathing new life into the powerful Megaways mechanism.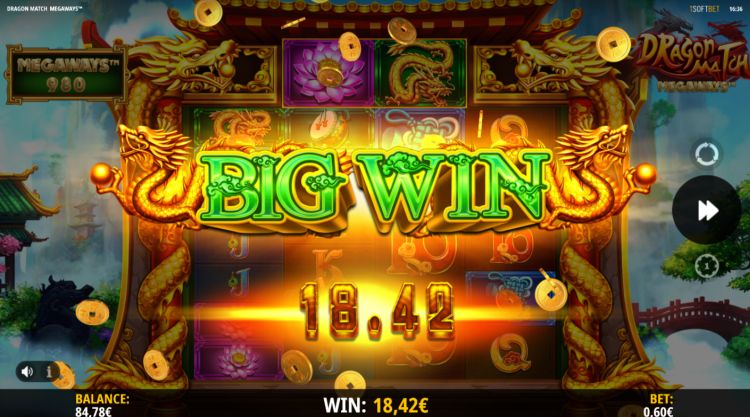 Dragon Match Megaways gameplay and features
Dragon Match Megaways is a Megaways slot with up to 3,125 Megaways to win and four reels.
Which, compared to other Megaways slots, seems unimpressive.
But with this slot, you can earn extra wilds by spinning two identical symbols on the top vertical reel (two symbols wide). If that succeeds, all these symbols will be made wild.
We can tell you, this way, your prizes can accumulate fast.
Additionally, to further boost your potential to win big, the cascading mechanism is active, allowing you to form multiple winning combinations one after the other.
Betting starts at 20 cents per spin and runs up to $€ 20 per spin.
The maximum win is limited to $€ 200,000; anything you earn above that amount will be forfeited. The high variance of Dragon Match Megaways makes a payout of two hundred grand quite possible.
Even during the free spins, you can earn all those extra wilds, but then again, your results are complemented by the progressive multipliers in the game. Dayum!
The theoretical payout percentage is 96.11%. That's okay, but there are better paying Megaways slots.
Symbols and payouts
The golden dragon is the wild symbol and replaces all other symbols except the Dragon Match symbols.
The regular golden dragons are the highest paying symbol and will earn you 400 credits for every 4-of-a-kind.
The lucky cards account for up to 100 credits, and four lotus flowers award you 80 credits.
Four of the same card symbols are worth a lot less, do not fool yourself: even with low-value symbols, you can still hit it big time with this slot and take home a monster paycheck.
Don't forget: win all ways, extra wilds, and possibly extra multipliers are a potent and lucrative combination.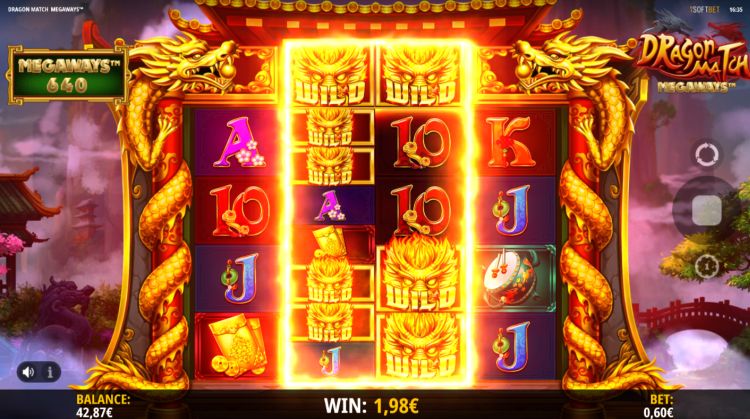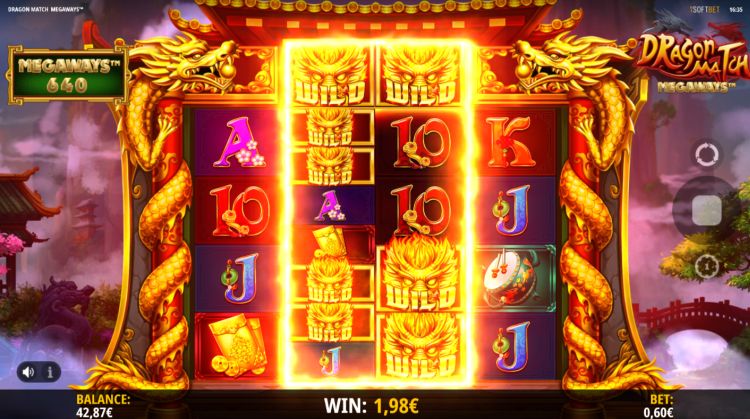 Free spins bonus
Okay, so you get extra wilds when you match two regular symbols on the top horizontal reel, but what happens when you match two bonus dragons?
You guessed it: you landed the free spins bonus.
There is no fixed number of free spins; you can mix and match yourself:
12 free spins with a start multiplier of x 1 (lowest risk)
8 free spins with a start multiplier of x 3 (medium risk)
5 free spins with a start multiplier of x 5 (high risk)
Mystery number of free spins combined with mystery start multiplier (highest risk)
If you grab 12 free spins with an x 5 start multiplier with the mystery option, then you'll be over the moon. However, the opposite is also quite possible; then, you will end up with only 5 free spins and an x 1 multiplier.
During the free spins, the multiplier is increased by +1 after each winning combination.
Matching regular symbols get you extra wilds, and matching bonus symbols earn you +5 free spins.
There is no limit to the height of the progressive multiplier nor the maximum number of free spins.
Grab that opportunity, right!?
Our verdict on Dragon Match Megaways
iSoftbet experiences with their Megaways slots a delicious flow.
We were already huge fans of Majestic Megaways and Aztec Gold Megaways. However, we have to admit that we think they outdid themselves with Dragon Match Megaways even more.
The slot is very innovative, and because of the extra wilds, very lucrative combinations can arise, especially during the free spins.
A big shout out to iSoftbet with their excellent score!
3.5 out of 5 stars.