Diamond Mine Megaways slot review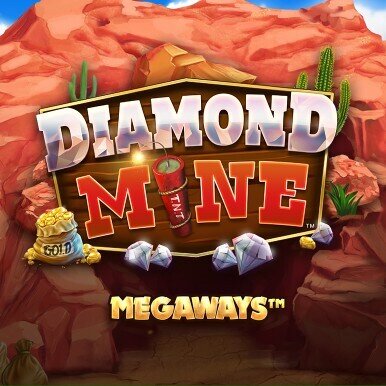 Blueprint Gaming's Diamond Mine Megaways slot is one of the top games for you out there. With its cool colourful graphics and awesome high-paying symbols, you get to experience a game unlike any other in the iGaming space.
Play Now
Game Provider:

Today I will review the Diamond Mine Megaways slot in its entirety and help you find out all about the juicy details.
Ready to make the megaways really work for you?
Let's dive right into the Diamond Mine Slot slot review.
Ready to get started? Here it comes!
Diamond Mine Slot Free Spins
On top of the fantastic 117,649 paylines, players have access to 12 free spins.
You want to get four or more scatter symbols to trigger these free credits. True, it's a bit of a stretch, but this being a megaways title, you can expect a few extra paylines to help you land the coveted freebies. On top of the free spins, players benefit from a multiplier.
What better way to boost your overall bankroll than add to it with both free spins and a multiplier?
And the best part is once you hit the required scatters, you can just lean back and enjoy as the cascading wins keep repleting your bankroll.
Diamond Mine Slot RTP
The Diamond Mine slot jackpot is the real winner here. You have a chance to hit 20,000x your original stake, winning an amount beyond your wildest fantasies. Even if you fail to hit the jackpot, though, there are alternatives. For example, the game offers 96.43% on average return to player (RTP) rate.
Not to mention your bets can vary between 0.20 and 100 credits at a time, giving you the flexibility to fully control your own payouts.
Of course, luck will play the better part of these outcomes, but it never hurts to have a little more control over how you spend your funds.
Diamond Mine Slot Tips
Are you looking to win a little more playing Diamond Mine slot? Great, because I am an old dog and know how to beat the casinos, or at least come very close.
Casinos may have the upper hand when it comes to the house edge, but what you have is the ability to handle your budget and play according to how lucky you are.
Most importantly, don't chase your losses. No matter how many credits you lose during a session, just know when to quit.
Similarly, once you start winning a lot, quit so you can cash out while ahead.
If you start burning through much money, just adjust the bet lines to spend less and still have fun! Conversely, once you hit a big win, you can afford a few bigger wagers for even better returns.
Ultimately it's all about your gut feeling. Remember, Diamond Mine slot is a fantastic game, but it has to be taken with a grain of salt, just like you and I already have agreed.