Conan Video Slot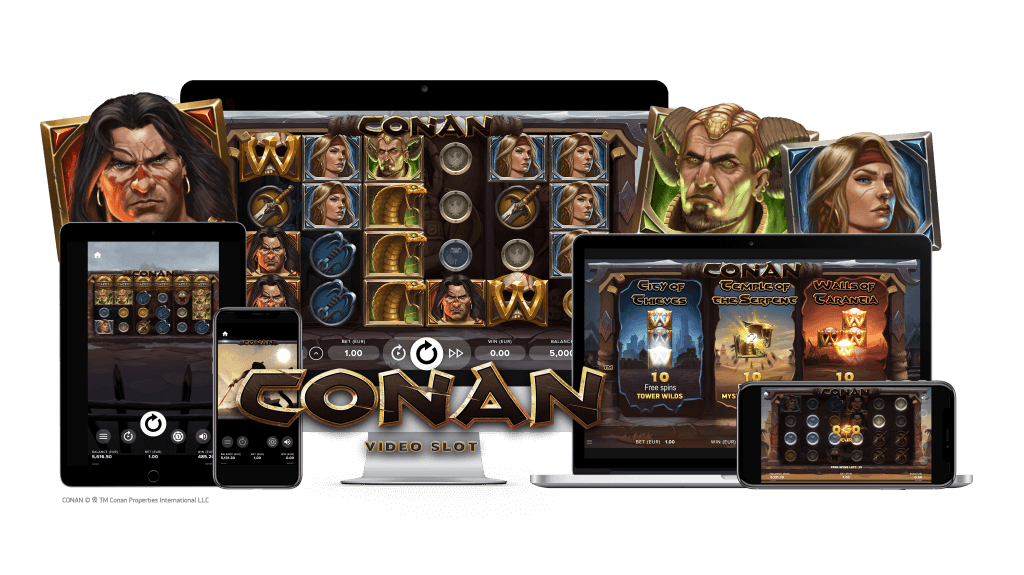 The slot based on the comic-book star we all know and love, looks gorgeous, with beautiful animations and amazing backgrounds. There are features all over the place and as a result, something spectacular is always going on. Our main gripe with Conan, however, is that it's tough to get a big win on this Netent slot.
Play Now
Game Provider:

Release date:
September 2019
Netent takes you on an action- and feature-rich adventure with Conan, the fearless barbarian
Extra wilds, synchronised reels, mystery symbols, three kinds of free spins bonuses and multipliers: you name it, Conan has it.
There is so much action, all the time, eating into the game's RTP, it's only logical that there's little left for the more serious prizes.
You can win up to 2,000 x the bet on Conan, but most free spins bonuses don't yield more than a pathetic 20 x to 50 x the stake. Sometimes it takes you over 200 – 300 spins to get to the free spins stage. So when you finally made it, and you get a prize of 20x the bet, it is inevitable that you are disappointed.
Conan is probably more suitable for those players who are fans of the comic books and maybe the movies, where Arnie is starring.
Slots players that are looking for real thrills and massive wins will soon ignore Conan.
Release date: October 1, 2019
Details: 6 reels, 4 rows and 24 paylines
Bet levels: €0.20-€200
Maximum win: €840
Special features: Free Spins, Mystery Symbol, Temple of The Serpent Free Spins, City of Thieves, Thoth-Amon Feature, Tower Wilds, Battle Wilds
Return to player: 96.01%
Volatility: Medium/High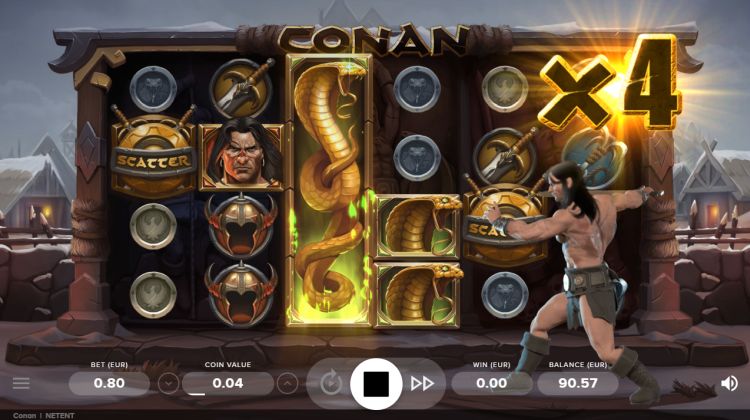 Gameplay and features of the Conan video slot
The first impression of Conan is breathtaking, adventurous and atmospheric. Netent has done everything they can, to make Conan as lively as possible.
The animations of the cuddly barbarian himself or the flashes of fire on the reels when you (almost) trigger a bonus are worked out beautifully. The visuals and animations of the slot are breathtaking.
In the background, we see a snowy village. The reels are inside an old temple. Of course, we have an impressive and imposing picture of Conan, including a muscular torso and loincloth.
There are 6 reels with 4 rows of symbols and 24 fixed paylines. You can win both ways. The number of winning combinations is more than plenty.
Bets start at a minimum of $€0.20 per spin. There is room for high rollers as well. The maximum bet is $€200 per spin.
What is the theoretical RTP, the variance and the maximum win of the Conan slot?
The theoretical payout percentage is 96.28%, which is fine and slightly better than the RTP of an average slot. No reason to complain here.
You can win up to 2,000 x the bet on Conan, but most free spins bonuses don't yield more than a pathetic 20 x to 50 x the bet. It is more than a total miracle if you manage to get a win above 500x the total bet, let alone something extraordinary as 2,000x the stake.
This is the issue with this slot. The variance is low to medium. It implies that the top prizes of this slot are around 100x to 250x the bet.
Players who seek higher wins or more excitement in terms of wins, need to find more volatile, high variance slots.
Symbols and payouts
The premium symbols consist of Conan, his archenemy Thoth-Amon and his buddy Valeria.
Conan is the most lucrative symbol: 6 x the total bet for a 6-of-a-kind on a payline.
The lower symbols are worth much less. These only add some value, combination with the mystery multiplier.
There are also wilds, that can expand either vertically (Tower Wilds) or horizontally (Battle Wilds).
Plenty of mini-features
As we mentioned in our introduction, Conan is packed with bonus features.
Netent has applied this strategy more often. Think of their blockbuster slots, like Planet of the Apes, Jumanji or Guns n' Roses. All these Netent slots have lot's of (mini) bonus features, giving the player the impression that a lot is going on.
It's the same story with the Conan slot. We have:
Extra wilds: on reels 1, 2, 5 and 6 extra wilds can appear.
Mystery symbols: stacks with mystery symbols.
Mystery multiplier: A stacked reel with mystery symbols activates Conan. He gives you an additional multiplier between x 3 and x 7.
Toth-Ahmon Feature: A stacked reel of mystery symbols in combination with a wild, yields at least 3 and at most 6 additional mystery symbols.
Linked Reels: like Twin Spin or Twin Happiness, each spin can have a couple of identical reels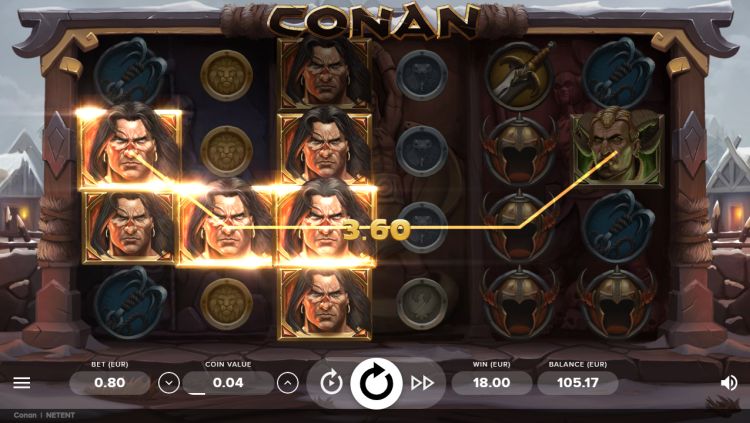 Free Spins Bonus – choose one of three features
If you get three or more scatters, you trigger the free spins bonus, and you can select one of the three available features.
City of Thieves Free Spins: 10 free spins with extra Tower Wilds on the reels. Here you can also get the linked reels.
Temple of the Serpent Free Spins: 10 free spins with extra mystery symbols. There are no wilds in this feature, but the Toth-Ahmon feature can be activated.
Walls of Tarantia Free Spins: 10 free spins with extra Battle Wilds on the reels. Also here, you can get the linked reels.
The free spins cannot be retriggered.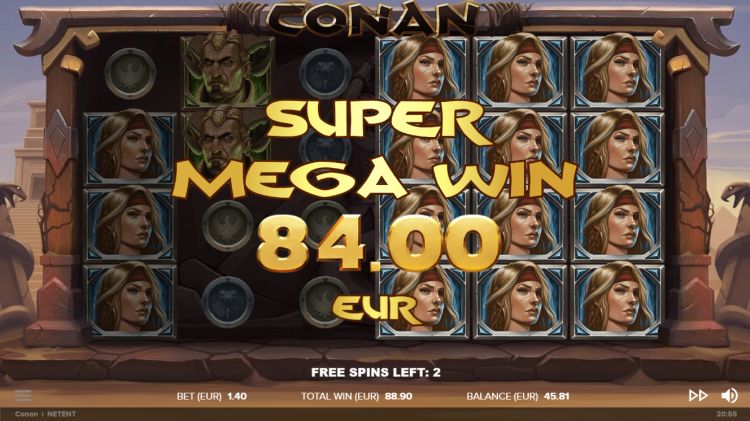 Our verdict on the Conan slot
Unfortunately, Conan did not convince us.
The slot looks fantastic, adventurous and very atmospheric. The issue is that Netent has overkilled the slot in terms of (mini) bonus features.
Everyone loves a good bonus feature, but this is clearly over the top. The drawback of this overkill is that all the features need to yield prizes.
As there are so many of those features, the prizes remain (most of the times) tiny – far from spectacular or exciting.
There is simply no room left, for you to win big on Conan.
After an hour of play, you will most likely get the "why am I playing here" feeling.
A pity, because there is undoubtedly a lot of potential in this Netent release.
3.6 out of 5 stars

😍Daily Promotions
🎁Huge Bonus Package
⚡️Extremely Fast Site

🔥New Casino
⚡️Quick Banking
🍒Reward Scheme

❤️Best Mobile Casino
🎁VIP Bonus Options
🍓Live Casino Bonuses