Beast of Wealth slot review (Play'n GO)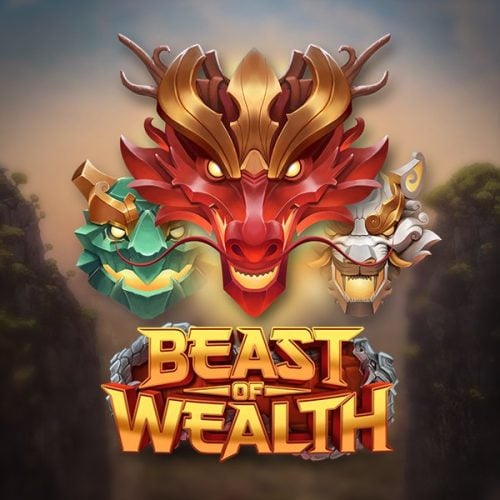 Beast of Wealth from (Play'n GO) is part of a series of three Chinese-themed progressive jackpot slots. The Celebration of Wealth and Temple of Wealth slots were released at the same time as Beast of Wealth.
Play Now
Game Provider:

Release Date:
September 2020
Beast of Wealth online slot (Play'n GO) – part of a series of three Chinese-themed progressive jackpot slots.
In addition to The Celebration of Wealth and Temple of Wealth, Play'n GO released Beast of Wealth simultaneously.
The word "Wealth" appears in all three slot names, and for a good reason.
You can get wealthy if you have all the luck in the world. As the three slots are linked together, the Jackpot will also grow three times as fast!
And that appeals to many Asians and mostly Chinese. But, it also appeals to me, I can tell you!
The max win at Beast of Wealth is 5,000x
As far as regular wins go, the maximum win is 5,000 times the stake.
Don't forget that are also four progressive jackpots waiting to be won.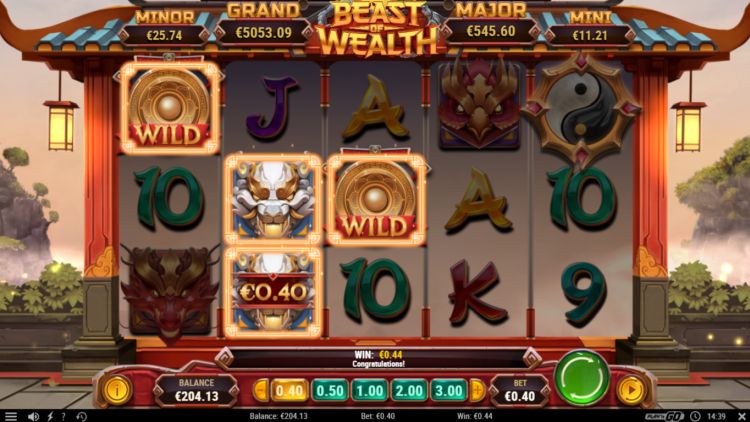 Beast of Wealth – Gameplay and Features
The slot has 5 reels with 3 rows of symbols, and there are 243 ways to win.
The four high-paying symbols (from most to least paying) are a Green Mask of a Reptile, a Red Mask of a Bird, a White Mask of a Predator, and a Red Mask of a Dragon (or Dog).
The five lower paying symbols are 9, 10, J, Q, K, and A.
Furthermore, you have Wild symbols (Golden Gong Instrument), which replace all symbols except Scatters. The Scatters are the Ying & Yang symbols. A 5-or-a-kind of the Scatters yields a 50x win.
The main game – land one of four jackpots
As with the two other jackpot slots, 1 to 5 reels can change into Gold Reels anytime. If you manage to spin a Wild on one of those Gold Reels simultaneously, you activate the Jackpot Feature, and you are guaranteed to win a progressive jackpot.
The four jackpots are the Grand, Major, Minor, and Mini Jackpot. The Grand Jackpot?
Everybody dreams about hitting the big one.
But we wouldn't turn any of the other three jackpots away either.
The free spins – more of the same beasts
If you get three or more Scatters, you activate the Free Spins.  You can pick from five free spins options:
8 free spins with 118 symbols with Green Mask of Reptiles
8 free spins with 108 symbols with Red Reptile Masks
8 free spins with 98 symbols with White Predator Masks
8 free spins with 88 symbols with Red Masks of Dragons
All other mask symbols disappear, so you have better odds of spinning winning combos.
The Dragons are the most lucrative symbols, but if you choose that option, the odds of winning decrease, as fewer Dragon symbols are on the reels (88).
You can also choose the Mystery Pick: you will be assigned a random Mask Symbol with 88, 98, 108, or 118 of these on the reels.
If you want to maximize the risk, you should go for the Mystery Pick or the 8 free spins with 88 Dragon symbols.
Payout percentage (RTP)
The RTP of Beast of Wealth is 96.2%, of which 1.5% is set aside for the jackpots.
There are online casinos in circulation that offer lower percentages, so before you play with real money, it's worthwhile checking the game rules.
Beast of Wealth slot – the variance is medium
Play'n GO gives a score of 7 out of 10 for the variance. Therefore the variance is on the higher side of medium. It also depends on which free spins option you choose.
The big wins will be around 500x the bet. But this is, of course, without the progressive jackpots.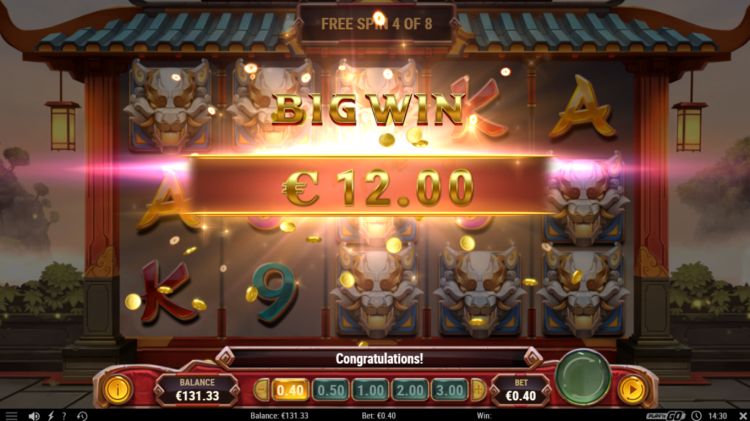 Beast of Wealth slot Pros and cons

Pros
The four jackpots increase the thrill.
As only 1.5% of the total deposit is reserved for the Jackpots, you don't get the feeling that you are losing a lot of money.

Cons
So, who'll like the slot? And who won't?
If you're into progressive jackpot slots, this one is worth it.
The advantage is that the two other Wealth slots are linked, so the jackpot can grow pretty fast.
You will find Beast of Wealth in all reliable Play'n GO casinos.