Arcader slot review (Thunderkick)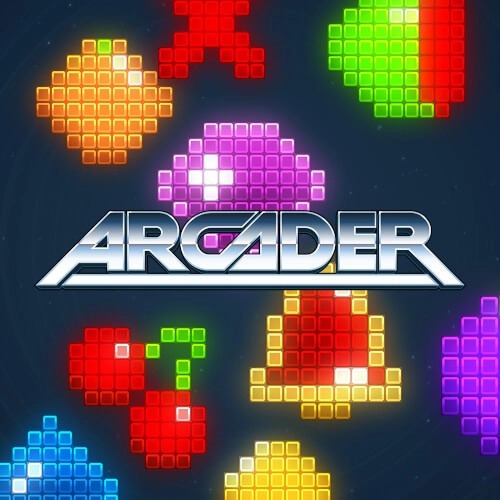 Thunderkick's Arcader slot takes you back to the golden era of Space Invaders, Galaxian and Pac-Man. Guess what? That makes us very happy!
Play Now
Game Provider:

Release date:
December 2014
Table of contents
Best of The Month

€150 Bonus Package

+100 Free Spins
Join
Best Bonus
Latest Casino News
Do you remember the times when you cycled to the arcade with a few coins in your pocket?
To spend all your money on those beautiful video arcade machines like Defender, Galaxians or Pac-Man?
Oh, how happy you were the moment you got a high score. Then you could punch in your name in 3 letters, and infinite fame was yours.
Sometimes, in a naughty mood, you would write a dirty word instead of your name. But only if nobody was watching, of course. Good old times.
Thunderkick's Arcader slot takes you back to these wonderful, nostalgic times. Be prepared for old-school graphics, mechanical voices, and lots of bleep bleep and zap sounds exactly as they should be. We love it.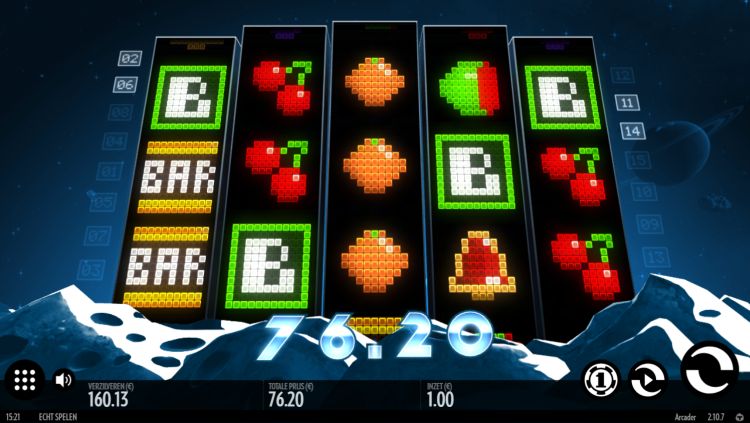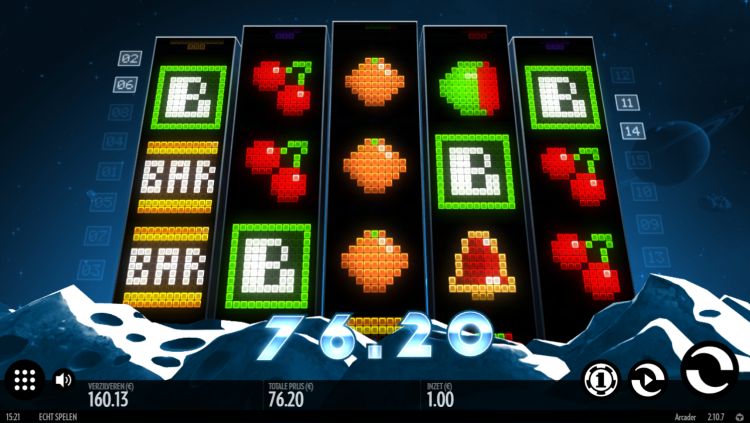 How does the Arcader slot work?
Arcader has 15 paylines across 5 reels with 3 symbols. Graphically it looks beautiful: large colourful pixels and a style that does justice to the games that Arcader pays homage to.
The primary game has both wilds and expanding wilds. The expanding wilds always change into the symbol that is most beneficial for the player. The game runs quickly and smoothly: usually, you'll get many rather small prizes and an occasional larger one. Thus, the base game has reasonably low volatility.
Arcader's payout rate of 96.1% is fine, although there are plenty of online slots that pay out more.
After each payout, the player is encouraged by a female mechanical voice. As is the case in so many classic video games…
Bonus features of the Arcader slot
You can win two different bonus games: the Mystery Bonus game (3 or more M symbols) and the "big" bonus game, which you trigger by 3 or more B symbols.
If you spin 3 or more M symbols, you move on to the Mystery Bonus game. The more symbols, the higher the multiplier (up to 9 x!). During the Mystery game, you pick 1 of the 15 boxes. Cash prizes hide behind 12 of them, and there is a cross behind the other three boxes. As soon as you pick the cross, the game ends, and you receive the credits.
The other bonus game consists of 9 free spins. Again: the more symbols you use to trigger the game, the higher the multiplier (up to 9 x). Before each free spin, a sticky wild is shot in the 3 x 3 centre field.
As these Wilds stay there throughout the rest of the game, this can lead to massive payouts.
However, several Wilds can also end up on the same spot. Frustrating and exciting at the same time.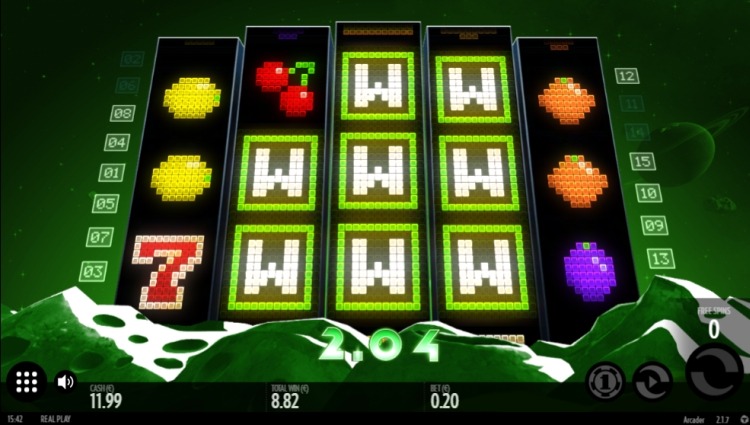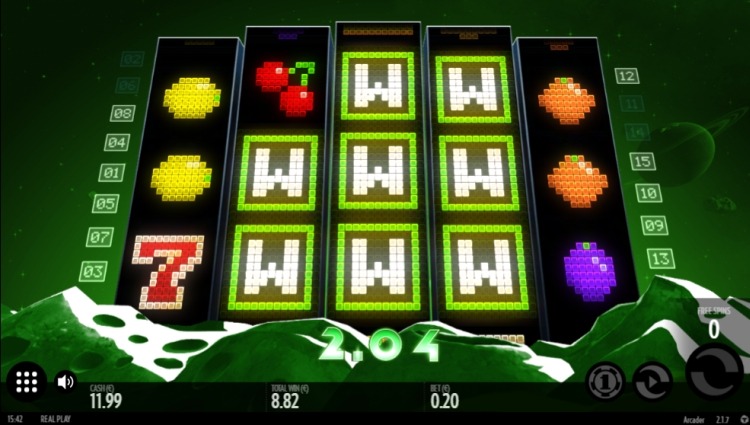 Four good reasons to love Arcader:
Perfect visuals and sound effects: you imagine yourself back in a classic video game arcade of the 80s.
The game is fast and entertaining and includes various bonuses, expanding wilds, and stacked symbols.
The bonus game can yield extremely high payouts, provided the Wilds drop on the right spot.
Old school cool, we love retro-style slots.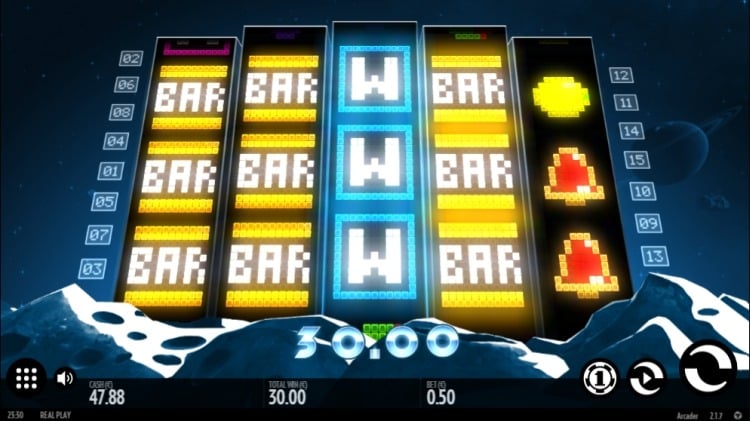 Our verdict on the Arcader slot
The Arcader slot is great fun and has a unique theme. Thunderkick knows how to surprise us with a title that is just different from other slots.
Two thumbs up from me for Arcader!
3.8 out of 5 stars.