Wilhelm Tell slot review (Yggdrasil)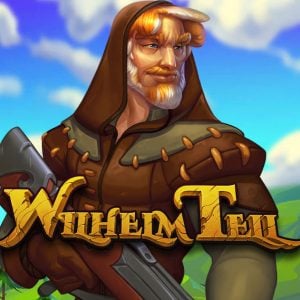 He was very skillful with a crossbow, that is for sure. To save himself and his son from being executed, the cool Wilhelm had to shoot the red apple from his son's head with one arrow. Failure was not an option, and so he succeeded. This action made Wilhelm Tell an instant hero among the people and gave rise to a legend.
Play Now
Game Provider: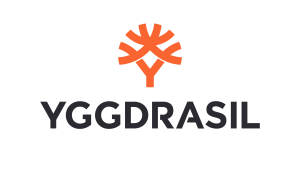 Wilhelm Tell is just about the most famous Swiss man of all time, but do we really know about the good fellow?
Yggdrasil must have thought: high time to make a video slot about this.
As an ultimate tribute to the man, the myth, the legend: Wilhelm Tell.
How does Wilhelm Tell work?
Wilhelm Tell is a pretty simple slot: there are 5 reels with 3 rows of symbols and 20 fixed paylines.
You can start playing for as little as $€ 0.10 per spin, which is good news for the purely recreational player.
Drop a few tenners in, and you have your night entertainment.
The maximum bet is $€ 50 per spin.
The theoretical payout rate of this slot can undoubtedly be called excellent: 97% is simply outstanding.
The maximum payout is hefty:  you can win up to 7,500 x the total bet.
But to be honest, it would have to be that all the stars align perfectly, and on top of that, lightning strikes at a precise moment.
We estimate the variance to be medium.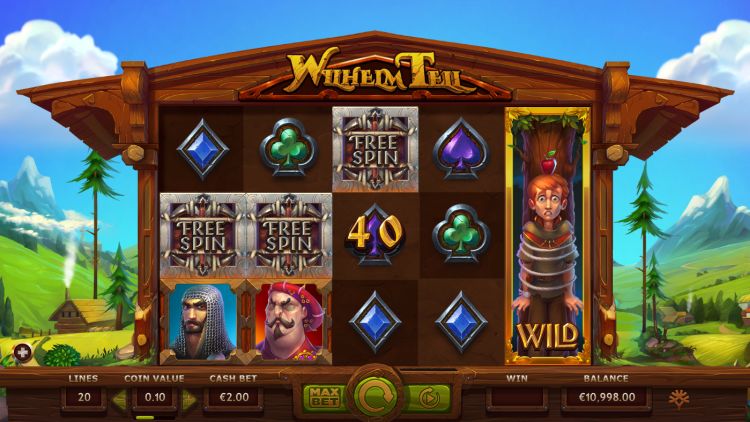 Symbols and payouts
The son of our friend Wilhelm Tell plays the lead role in this slot.
He stands, shaky and sweaty, with a red apple on his head.
He is a wild symbol that expands over the entire reel.
Yggdrasil calls it a nudging wild, but the same difference, really.
The wild replaces all symbols, except for the scatters.
If you manage to spin five wilds on a payline, you earn 7.50 x the total bet. A screen filled with wilds is worth 150 x the total bet.
The premium symbols include the nasty tyrant, our hero Wilhelm, and a menacing-looking soldier.
We would look like him, too, if all you got to do were dirty jobs for minimum wage.
These symbols will pay out between 7.5 x and 5 x the total bet with every 5-of-a-kind.
The low-value symbols are card symbols: hearts, spades, diamonds, and clubs.
Five of these card symbols on an active payline will get you anywhere from 1 x to 2 x the total bet.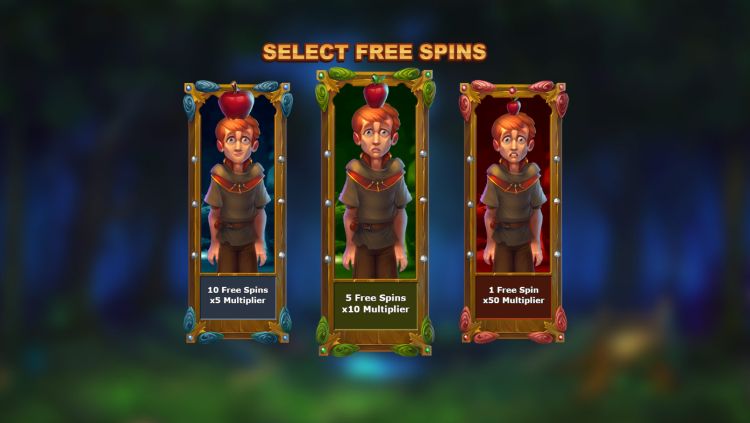 Free spins bonus:
Three or more scatters activate the free spin bonus.
Besides that, you also receive an extra money prize of a maximum of 10,000 coins (with five scatters).
The number of free spins (and which multiplier is active) is something you get to choose yourself:
10 free spins with a 5 x multiplier
5 free spins with a 10 x multiplier
1 free spin with a 50 x multiplier
You can only win the main prize with this last option, and to do so, you have to fill the entire screen with wilds using that one spin.
The prize amounts to 20 x 7.50 x 50 = 7,500 x the total bet.
We suspect that most of the Wilhelm tell slot players will opt for an option with 5 or 10 free spins.
Unless you are already firmly in the win column and want to try something a little off the wall.
Our verdict on the Wilhelm Tell video slot
Wilhelm Tell is a decent video slot that looks slick and allows you (albeit a small one) a chance to win big money.
But despite the gorgeous graphics and the fully fleshed-out theme, we feel something is missing.
On some level, it feels like this slot had to have a bit more depth to it with such a historically significant theme.
An extra bonus feature could have made a big difference in this regard.
3.5 out of 5 stars.