Vikings slot review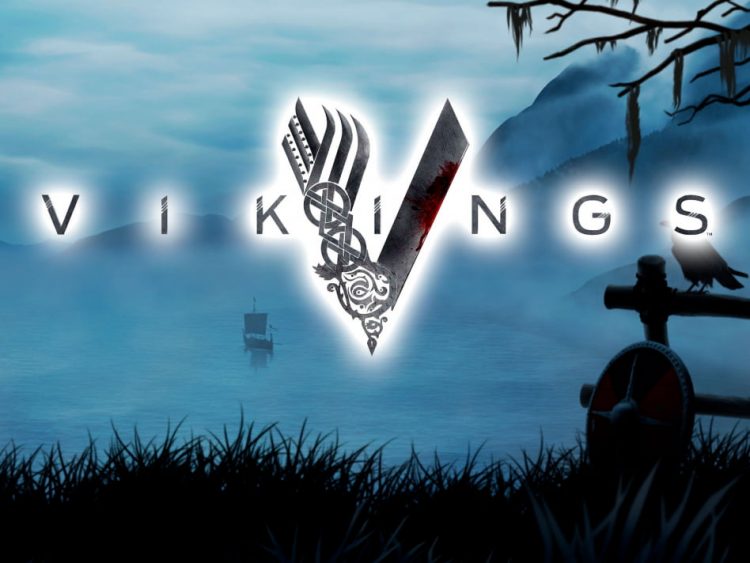 Just before the end of 2018, Netent has unpacked with Vikings, a beautiful video slot. The intro alone is impressive, and the game itself doesn't disappoint, either. This new slot is all about the most demagogue Viking that has ever existed.
Play Now
Game Provider:

Release Date:
November 2018
Apart from the beautiful design, this slot also has a lot to offer in gameplay: nice extra features and an exciting free bonus round.
Furthermore, there are huge prizes to win here: Vikings is a high-variance slot. We'll elaborate on that below.
Vikings slot – Gameplay and Features
In the main game, you have the classic setup with 5 reels with 3 rows of symbols.
The win-all-ways principle applies here, so there are 243 ways to win.
Furthermore, two mini-features give the main game some more body.
You have the Hot Spot feature where the middle reel is a hot spot.
If a Viking falls there, the entire reel is stacked with Viking symbols.
Then there is the Shield Wall feature.
Shields change into Vikings so that you can get higher combinations faster.
Free spins bonus round – stunning with as many as 7 reels and 3 hotspots
However, Vikings revolve around the free spins bonus, activated when you manage to spin three scatters.
Sometimes you have to wait a long time for it (on average once every 370 spins), but you usually are in for a treat!
You now get 7 free spins on an expanded grid with 7 reels and 5 rows of symbols.
Suddenly, you are playing with 78,125 ways (5x5x5x5x5x5) to win.
Besides that, you have three hotspots so that you can get a lot of stacked reels with Vikings.
So it can go very fast here.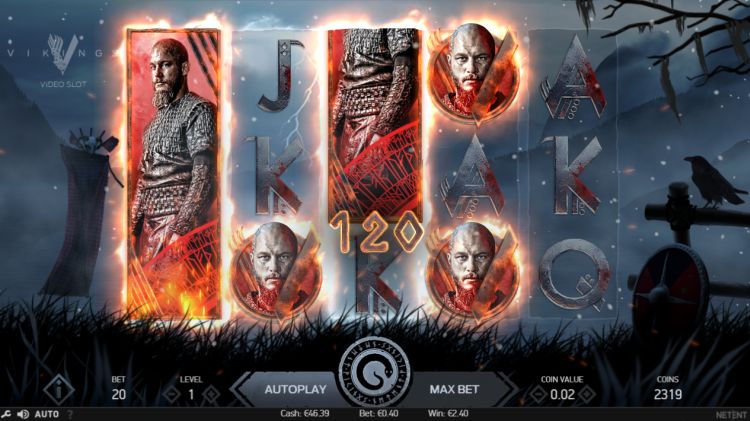 Stakes and payout percentage
Minimum stake: $€0,20
Maximum stake: $€100
RTP (return to player): This is probably slightly on the low side, especially for Netent terms.
The payout rate of Vikings is 96.05%.
Vikings slot – the variance (volatility) is high
When it comes to the maximum prize, Netent is secretive about that.
According to experts, it's possible to win a prize of 5,000x the bet at Vikings.
Vikings is, according to Netent, a high variance slot.
This means that it is indeed possible to win substantial prizes of say 2,000x to 5,000x the bet.
Of course, the odds of this are not very high, but it is certainly realistic.
We have seen prizes of 2,000x and even 3,000x the bet.
You can compare Vikings with other Netent slots like Jungle Spirit and Jack and the Beanstalk in terms of variance.
Extremely high variance slots like Dead or Alive or Dead or Alive 2 are of a very different order.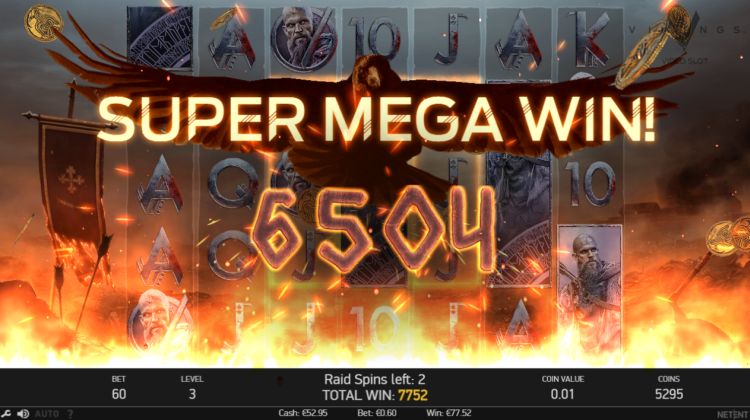 Vikings slot – pros and cons

Pros
Beautifully designed theme with many similarities to the Netflix series Vikings
It is possible to win very substantial prizes: the variance is high.
You get the feeling that you are working towards a beautiful apotheosis with the free spins.

Cons
The payout percentage of 96.05% is acceptable, but that's all.
You have to consider that your balance can go very quickly in the wrong direction with this volatile slot.
If you're impatient, you'll soon get the feeling that it's taking far too long before the free spins are activated.
Viking slots – who will like the slot? And who won't?
This slot is just so beautiful and filled with exciting bonus features that we can't imagine anyone not liking this slot.
Vikings is a slot with high variance. Some people like that, because you might be able to win huge prizes.
Other players, however, prefer to take less risk and play safe.
In that case, you should not play this slot.
The chances of losing are greater once you play volatile slots.
But if you win, you win more than fair!
However, you should have quite a starting balance when you start playing (at least 200 to 300x the bet per spin).
That's because it can sometimes take a very long time to get the free spins.
Yes, you need them to get a big prize.