Ultra Burn slot review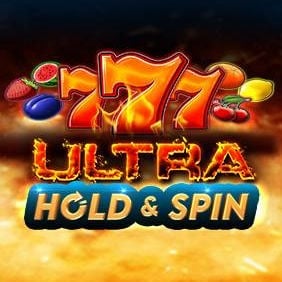 It's a boring fruit slot. If you don't like it, you don't have to read my review. Period! Do you like fruit and, in particular, slots that play at lightning speed? Then this slot is perfect for you. You do 100 spins in 45 seconds! How about that!
Play Now
Game Provider:

This slot is also very similar to the Hot to Burn slot, which was released two weeks earlier.
The development costs will have been a laughing stock for Reel Kingdom, a new business partner of Pragmatic Play.
With the Ultra Burn slot, the grand prize is 500x the bet.
It is a nice prize.
You'll get it if you manage to spin a screen full of 7's.
With the maximum bet of €250, the grand prize yields you a lovely €125K.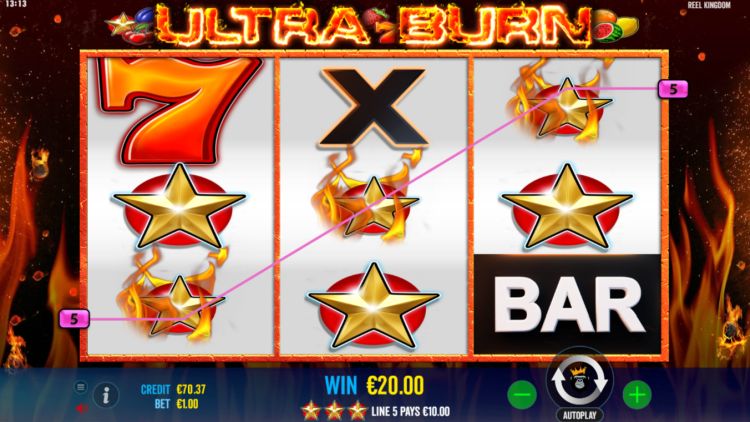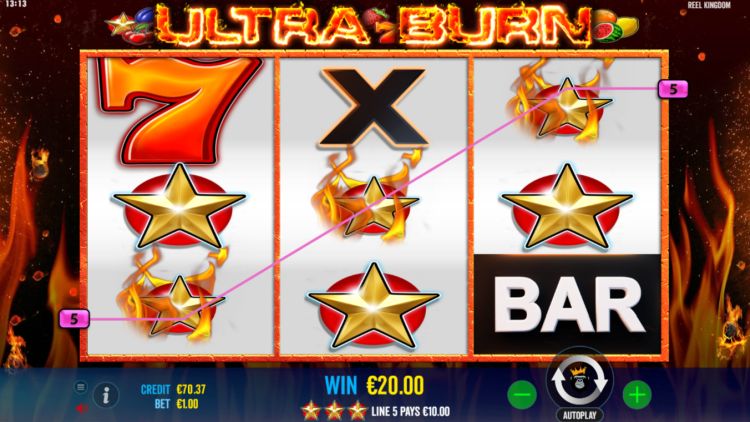 Ultra Burn slot – Gameplay and Features
We can't make this review long. But why should we?
You're just wasting time, and you don't want to, with this fast-paced slot.
The slot has 3 reels with 3 rows of symbols. And you have 5 paylines. Nice and straightforward.
You have four fruit symbols, a Black Cross, a BAR symbol, a Starsymbol, and the 7's.
The 7's are by far the most lucrative symbols.
If you get a 3-of-a-kind on a payline, you get paid 100x the bet.
You don't have to be a talented mathematician to see that a full screen of 7's is awarded the top prize of 500x the bet.
You don't have the free spins here.
That would be too time-consuming.
Payout percentage (RTP)
Ultra Burn's standard payout percentage is 96.62%.
Ultra Burn slot – medium variance (volatility)
Pragmatic Play indicates that the variance of Ultra Burn is "medium."
Specifically, we, therefore, expect most top prizes to be around 200x to 500x.
Higher than 500x, the bet is not possible anyway.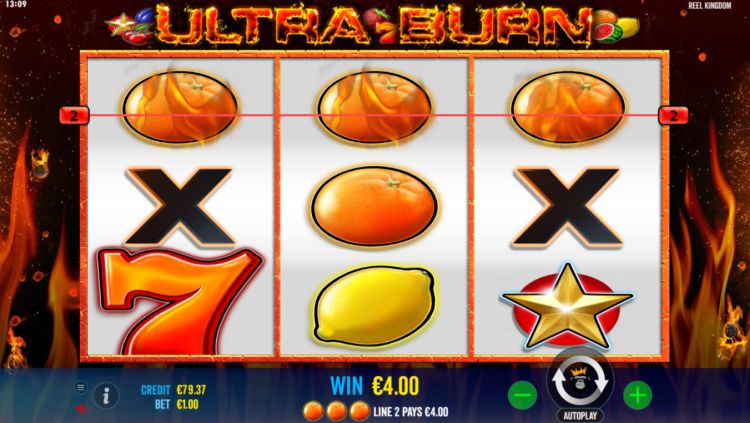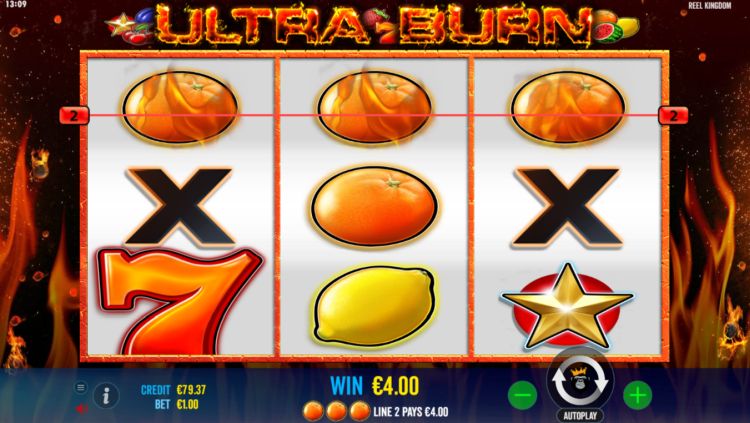 Ultra Burn slot – advantages and disadvantages

Pros
Plays so incredibly fast and is so straightforward. How convenient!
Less is more!

Cons
The slot is incredibly monotonous.
You'll get bored in a couple of minutes unless you are a fruit machine purist.
You're not going to win any massive prizes here.
So, who will like the slot? And who won't?
If you don't like fruit slots, you have nothing to look for here.
Experienced slot players find this slot way and way too boring.
Anyway, if you have a spare couple of minutes, you can have a couple of hundred spins.
Who knows, you might get a nice little extra.