There might not be anything more fun-filled than spinning those reels, but do you actually know everything you should regarding the slots game? If you're not sure, you might want to read on to learn what the maximum win of slots actually means.


High RTP

San Quentin xWays slot review (Nolimit City)

High RTP

Fire In The Hole xBomb slot review (Nolimit City)

High RTP

Coils of Cash slot review (Play'n GO)
An online slot's maximum win – the sky's the limit! Or is it?
The maximum win (or "max win") is the highest possible win you can achieve when playing a slot.
Often, the slot provider reveals what the maximum win potential is.
Usually, the win is expressed as a multiplier. For example, the maximum win is "5,000 times the bet or simply 5,000x bet or 5,000x".
It implies that your maximum win is at most 5,000x the amount you stake. With a 20 cents spin, it's possible to grab a $€1,000 (at the most). Would you bet a hundred, you would potentially be able to take home a flat half a million.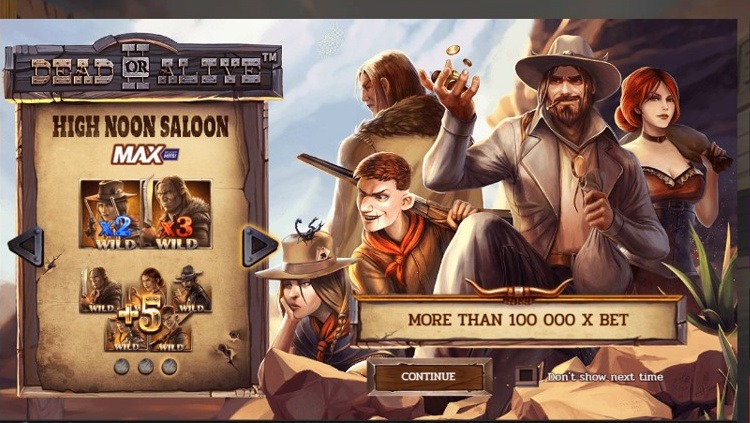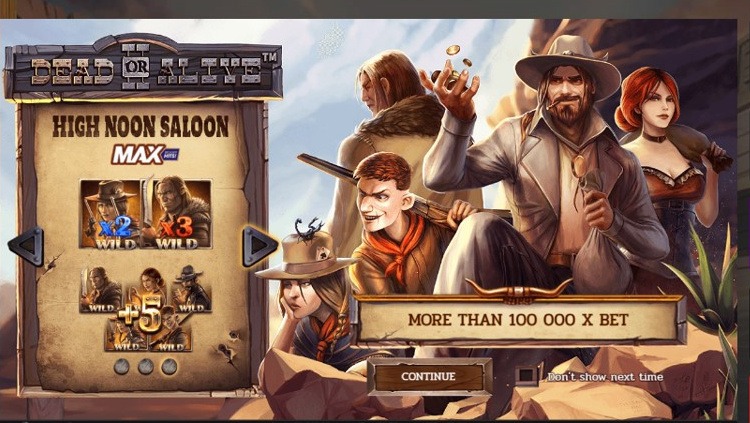 The max win of slots has increased tremendously over the past few years
Since 2018/2019, slot providers are boasting way more often about their slots' win potential.
How different is that from, say, the 2010-2015 period. In those times, one would already be more than happy with a 500x win. How has this perception changed in the last couple of years!
Players seek much more massive wins and, ideally, even a life-changing win. It gives you a much higher thrill, and let's face it, wouldn't you be over the moon if you can buy a new sportscar or buy off your mortgage?
The table below illustrates the development of the (average) max win of the slots of 5 larger providers from 2014 till 2020.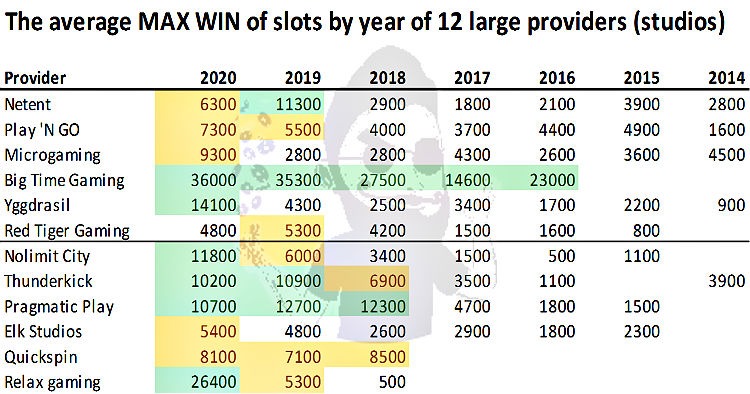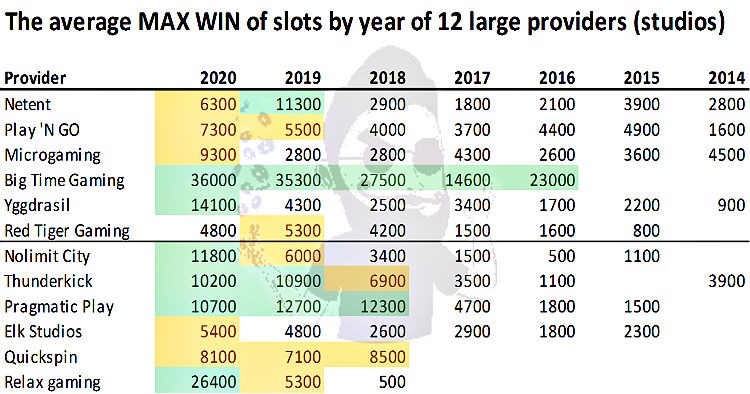 The table confirms that the win potential of slots has increased tremendously.
Take, for example, Nolimit City. In 2016 and 2017, the average max win of their slots was a low 700x and 1500x. What a laugh! Over 2020 it has expanded to over 10,000x, and their first 2021 slots are topping this! For example, San Quen tin xWays has a max win of a blasting 150,000x or Fire In The Hole xBomb with a 60,000x max win.
I see the same with the Relax Gaming or Thunderkick slots.
With Play'n GO slots, we also see an increase, but a bit more moderate. But don't underestimate it. Play'n Go, for example, released slots like Coils of Cash (max win 30,000x) or 24K Dragon (max win 24,000x) at the end of 2020. Compare that to Book of Dead, where you can win 5,000x at the most!
The average win potential of Netent's 2019-slots was very high, which is explained by the brilliant Dead or Alive 2 slot, where the max win is an insane 111,111x the bet!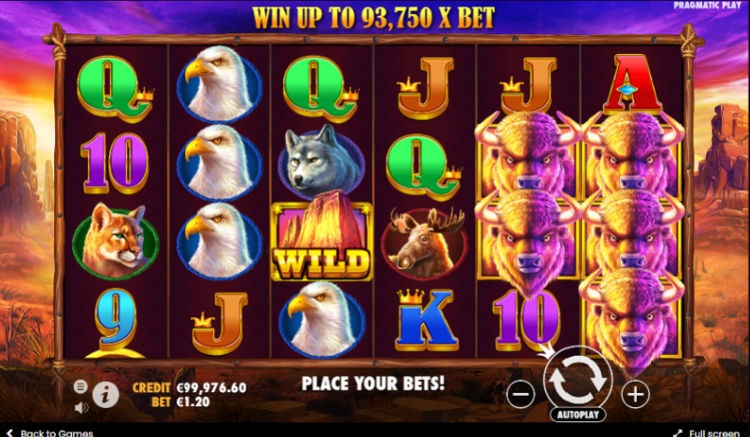 Casino streamers force slot providers to take measures, thanks to Casino streamers
It's a development that is hard to ignore. Nowadays, I see more and more YouTubers and streamers making films where slots pay out massively. And yes, those films are watched tens of thousands of times, and it seems to work like a magnet.
Slots as Netent's Dead or Alive or Play'n GO's Book of Dead already got lots of attention, as these YouTubers and streamers showed their wins with these slots.
Nowadays, we see these streamers promoting slots like Relax Gaming's Money Train 2 (max win 50,000x) and some of these brutal Nolimit City slots!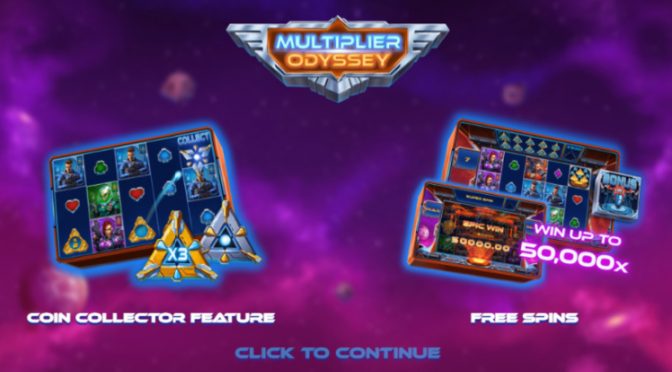 The emergence of Megaways slots has also helped
Also, the so-popular Megaways slots are known for their massive win potential.
Blueprint Gaming released many slots where the max win is capped at 50,000x the stake, but also Big Time Gaming has many slots with a blasting win potential.
And last-but-not-least: don't forget the Bonus Buy feature slots
As of 2020, we have seen many more slots with the Buy a Bonus Feature. And yes, most of these have towering win potential.
Take, for example, Relax Gaming. Almost half of their 2020-slots have a max win of 50.000x, and it is no coincidence that these slots all have the Bonus Buy Feature.
The same applies to Nolimit City slots. Since 2020, all their slots come with the Nolimit Buy feature, and yes, the win potential of these slots are usually in the tens of thousands of times the bet.
More and more players (and high rollers in particular) seek their luck with the Bonus Buy feature and aim to land something extraordinary.
Beware, though, that the max win is expressed as a multiple of the original stake. If, for example, the Bonus Buy feature's cost is equal to 100x the original stake, and the max win is 50,000x, your win is at most 500 times the amount you paid with the feature.
Nevertheless, this feature has helped a lot to get many more slots with such extreme win potential.
It would, obviously, not make sense to introduce such a feature for low variance slots, with a pathetic maximum win potential of, say, 500x or 1000x.
Besides, these slots are much easier to film and play for YouTubers and streamers. After all, they have immediate access to the free spins!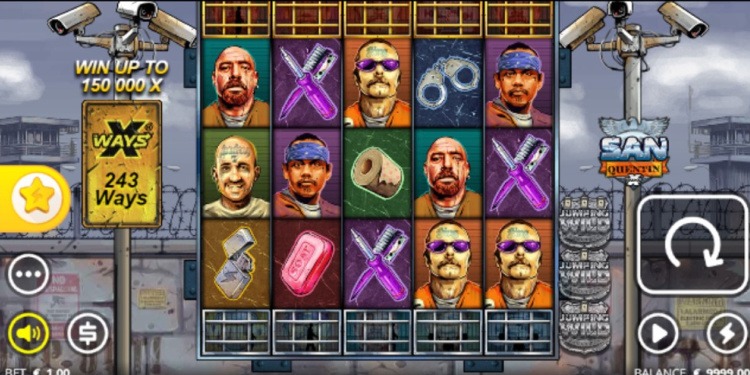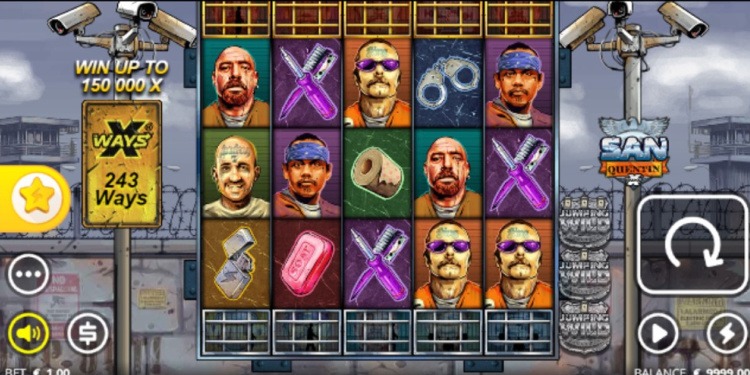 Which slots have the highest maximum win?
There are over 30 slots with a win potential of 50,000x or more, and believe me, this number will snowball in the coming years.
We have Pragmatic Play's Peking Luck with a maximum win of 180,000x the bet! And Nolimit City released San Quentin xWays a couple of months ago, with an insane max win of 150,000x.
Netent released Dead or Alive 2, where it's possible to land a cool 111.111x.
But there are many more slots with a max win of 50.000x or more.
Is it realistic to land such a massive win? Or is it only a dream?
Indeed the million-dollar question!
I cannot deny that odds are slim.
The variance of a slot is a good indicator, though. If it's high or even extremely high, it's a fact that these slots payout bigger wins but less often (on average).
Usually, slot providers calculate the max win with one or even 10 billion simulations.
Nolimit City tells you (for their most recent slots) how often the max win is paid out (on average). Take, for example, the Fire in the Hole xBomb slot. Its max win is 60,000x, and it lands once every 23.5 million spins (on average).
So it comes with no surprise that these wins won't appear often, but you can be the next lucky winner. No guts, no glory!
You may like
Our list of slots where the max win is 50,000x or more!
Don't wait and play these slots with an insane win potential at one of these online casinos
Do you want to have a go and see if you can land something extraordinary?
Choose one of these trustworthy online casinos, register an account, deposit some funds and start playing!

Available in your country