Money Train Slot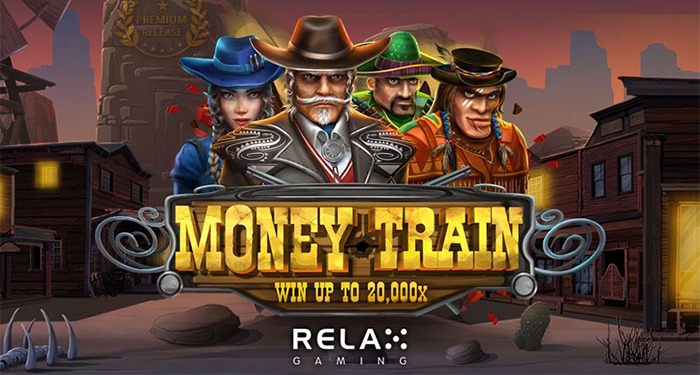 Money Train online slot is a game by Relax Gaming designed to bring a real Western thrill in your iGaming session. The title carries a great potential to turn you into a very rich bandit or sheriff indeed at no high cost. But before you go chasing metaphorical riches, though, let's have a good look at what the potential payouts can bring you.
For starters, you could win 20,000x times your original bet, which is not half bad. Plus, there is the Stacked Wilds feature to bring just a wee bit of extra joy. Whether you are a real gunslinger or a more peaceful resident of the Wild West, though, there is a train out there, and it's full of cash.
I'd love to catch you up on all the neat aspects of the gameplay here, so allow me first to run you through the main features:
Release date

: 2020

Details

: 5 reels, 4 rows, 40 paylines 

Bet levels

: €0.20 – €25.00 

Maximum win

: 20,000x

Special features

: Stacked Wilds, Multiplier, Bonus Round

Return to playe

r: 96.2% – up to 98% with the Bonus Buy feature 

Volatility

: High
Money Train Slot Sites                                                                                         
They say there is a light at the end of the tunnel. If you ask me, I'd much rather it be the oncoming Money Train! You are probably already shopping around for a decent website to join and enjoy yourself, so let me help you single out a few ones that promise you an excellent steel-on-reels experience, including: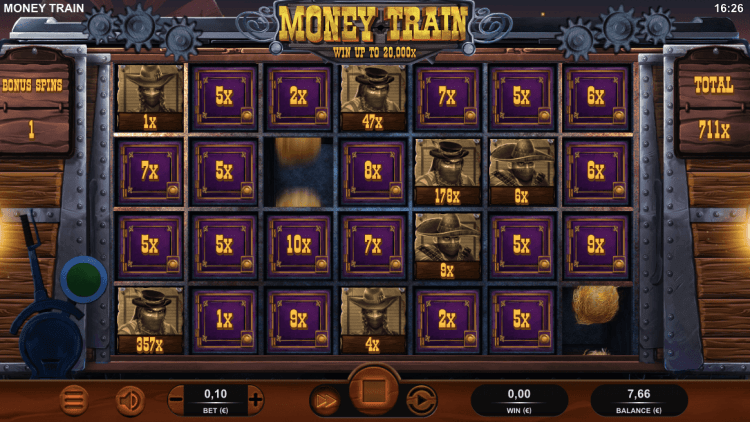 Money Train Free Spins & Gameplay
It's all about turning a decent buck and in the company of Money Train, this shouldn't be an issue. The game itself is set in the Wild West, and it reminds players of many popular online slots. Yet, none of the other Westerns truly touches upon one of the quintessential experiences – the train raids. 
Whether they are carried out by angered locals or opportunistic miscreants, it doesn't matter. All that you want to know is that there are lots of rival bands out there. The high-paying symbols are very stylish indeed, and you will meet the Mexican, Indian, Settler and the Lady. 
Yes, there is even a bit of female banditry in this slot! The wild symbol in the game is two shotguns crossing barrels with the word "Wild" in big letters. There is also a bonus symbol, and if you hit that, you will trigger the Money Cart Bonus Rounds.
That sounds alright to me, and when I tried it, I was awarded three free spins. Now, it's important to note that the Bonus Symbol would reveal various multipliers and free spins. 
There are quite a few of those! You will see the Money Safe, Payer, Persistent Payer, Widener, Collector, and Persistent Collector. Last, you have the tumbleweed and guess what – it has no value whatsoever. 
Well, that's a bit of a bummer. Now speaking about big payouts, you stand to win 20,000 times your stake. Sounds incredible, no? But even better yet, you can use the Buy Feature and jump straight to the bonus round. And hold onto your hats, Westeros, because the RTP will suddenly jump from 96.2% to 98.0%. In fact, let's talk a bit about that. 
Money Train RTP
Interested in finding out how much the game pays? It often feels like playing Russian roulette with the barrel of your colt in the Wild West, but there are some pointers to make your experience more streamlined.
With 96.2% average payout, you are in for decent overall gameplay. Plus, there is the option to boost that to 98.0% in the bonus game. Sounds fair. As to the actual payouts, the game comes with high volatility, so expect less frequent payouts – but bigger ones nevertheless.
The betting limits are still flexible enough, ranging between 0.20 and 25.00 units, so there is your chance to win big time. If not entirely sure, don't hesitate to consult the paytable, as it describes all features and their payouts, respectively.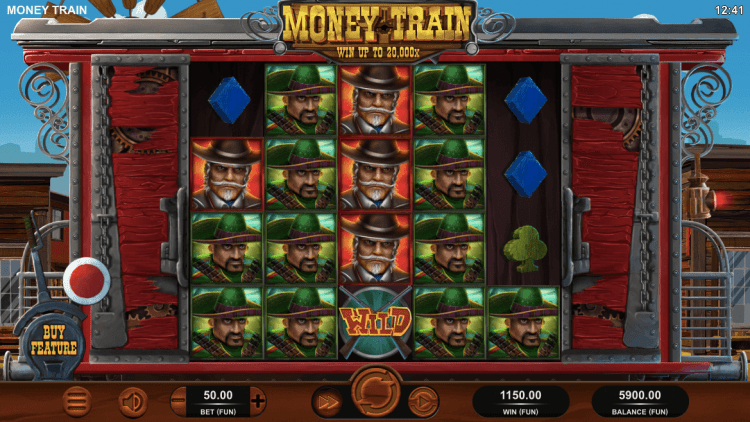 Tips
You probably want to make it work, and I can't blame you. Relax Gaming's Money Train has very intuitive gameplay, and you won't have to theorize much – if at all. Just remember to play for fun and stay smart about your money. The rest sort of follows. Pick a bonus where you can and try to choose a trusted casino. I have recommended a few myself, so why not stop by the table and pick one?
Relevant news